Indiana Governor Edgar D Whitcomb (1917-2016)
Edgar D. Whitcomb
Governor of Indiana
January 13, 1969-January 9, 1973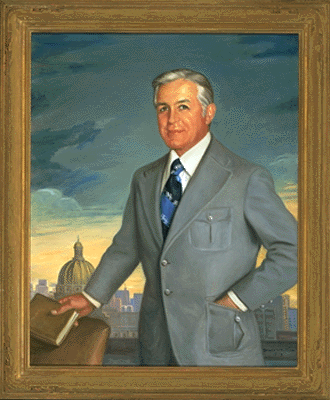 Artist: Donald Mattison, American, 1905-1975
oil on canvas, 41 7/8 x 33 7/8
Signed and dated l.r.: Donald M. Mattison/1973
EDGAR WHITCOMB was born in Hayden, Jennings County, Indiana. He attended Indiana University until the outbreak of World War II and then served heroically as a [. . . navigator] in the Philippines. His book, Escape from Corregidor, based on his war experiences, was published in 1958 and was popular enough to justify a paperback edition in 1967. On Celestial Wings published in 1996 contains the true stories of the men (including Governor Whitcomb) of the first Army Air Corps Navigational Class in 1940-the Class of 40-A.
After the war, Whitcomb returned to Indiana University and completed his law degree. For fourteen years he practiced law in North Vernon, Seymour, and Indianapolis, developing a Republican political base. Whitcomb ran unsuccessfully for Congress in 1954 and for the Senate in 1964. In 1966, however, he was elected Indiana's secretary of state, and in 1968 he was elected governor.
A conservative Republican, Whitcomb sought the Republican nomination for United States senator in 1976 and was defeated by Richard Lugar. After leaving office as governor, he served as director of the Mid American World Trade Association and resumed his law practice in Indianapolis. After retirement he moved to southern Indiana.
Source: Peat, Wilbur D. Portraits and Painters of the Governors of Indiana 1800-1978. Revised, edited and with new entries by Diane Gail Lazarus, Indianapolis Museum of Art. Biographies of the governors by Lana Ruegamer, Indiana Historical Society. Indianapolis: Indiana Historical Society and Indianapolis Museum of Art, 1978