Indiana Governor David Wallace (1799 - 1859)
David Wallace
Governor of Indiana
December 6, 1837-December 9, 1840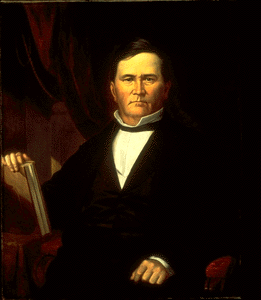 Artist: Jacob Cox, American, 1810-1892
oil on canvas, 36 1/4 x 29 (92.1 x 73.7)
Signed l.l.: on book: J COX/IX.?.
DAVID WALLACE, born in Pennsylvania, moved with his family to Ohio where he attended school. He later moved to Brookville, Indiana, where he studied law and was admitted to the bar. He attended the U.S. Military Academy at West Point, graduating in 1821 as a second lieutenant. He served in the 7th Regiment, Indiana militia, with ranks of lieutenant, captain, and colonel.
Wallace served in the Indiana House of Representatives from 1828 to 1831, when he was elected lieutenant governor on the Whig ticket with Noah Noble. He was re-elected in 1834 and served until February 1837, when he became a candidate for governor. In that election he defeated John Dumont, also a Whig. Wallace's administration was plagued with economic disaster as a result of the collapse of the internal improvements program. He was elected to Congress in 1841 but was unsuccessful in his bid for re-election in 1843. He was the Whig state chairman in 1846, a member of the constitutional convention in 1850, and was elected judge of the court of common pleas in 1856.
A dignified man with a judicious manner, he was also described as "a lover of books, and was one of the most delightful of readers." He is, however, most famous as the father of Lew Wallace.
Source: Peat, Wilbur D. Portraits and Painters of the Governors of Indiana 1800-1978. Revised, edited and with new entries by Diane Gail Lazarus, Indianapolis Museum of Art. Biographies of the governors by Lana Ruegamer, Indiana Historical Society. Indianapolis: Indiana Historical Society and Indianapolis Museum of Art, 1978.