Indiana Governor Ashbel Parsons Willard (1820 - 1860)
Ashbel Parsons Willard
Governor of Indiana
January 12, 1857-October 4, 1860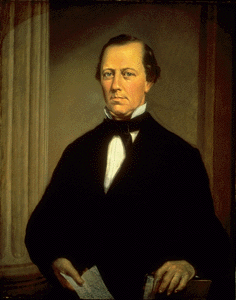 Artist: George W. Morrison, American, 1820-1893
oil on canvas, 36 1/4 x 29 1/8 (92.1 x 74.0)
Signed l.l. at base of column: G. W. Morrison Pinxt
ASHBEL WILLARD was born in New York, educated at Hamilton College, and then studied law. He moved to Michigan, to Texas, and then settled in Kentucky. Willard, a Democrat, spoke in New Albany, Indiana, while campaigning for James Polk in the 1844 presidential campaign, and the citizens were so impressed with him that they asked him to settle there. He moved to New Albany in 1845 and practiced law. He served in the Indiana House of Representatives (1850-1851), and in 1852 was elected lieutenant governor on the Democratic ticket with Joseph Wright. Willard was only thirty-six years old when he defeated Oliver P. Morton in the 1856 election for governor. Willard's administration was plagued with problems with the legislature, and he was forced to borrow money to pay the interest on the state's debt. A heavy drinker with longstanding health problems, in 1860 Willard, in a vain effort to regain his health, went to Minnesota where he died in October. He was the first of Indiana's chief executives to die in office.
Handsome, red-haired, blue-eyes, Willard was indisputably a charismatic figure and a man of tremendous charm and force. His abilities as a campaigner were extraordinary, his oratorical powers pre-eminent. In 1854 the Western Democratic Review described him as "the best popular orator in the United States."
Source: Peat, Wilbur D. Portraits and Painters of the Governors of Indiana 1800-1978. Revised, edited and with new entries by Diane Gail Lazarus, Indianapolis Museum of Art. Biographies of the governors by Lana Ruegamer, Indiana Historical Society. Indianapolis: Indiana Historical Society and Indianapolis Museum of Art, 1978.