Indiana Governor Abram Adams Hammond (1814 - 1874)
Abram Adams Hammond
Governor of Indiana
October 4, 1860-January 14, 1861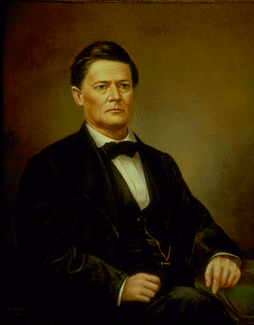 Artist: John Bayless Hill, American, 1849-1874
oil on canvas, 36 x 29 (91.4 x 73.7)
Signed and dated l.l.: Jno. B. Hill./Pinxt/1869
ABRAM HAMMOND was born in Vermont and came to Brookville, Indiana, when he was six years old. After attending the common schools he studied law and practiced in Greenfield and Columbus. A restless man all his life, he moved to Cincinnati in 1847 and practiced there until 1849, and, again after a few years in Indiana, in 1852 Hammond set out for San Francisco and practiced law with a prominent firm for three years. He later moved back to Indianapolis where he served as judge of the court of common pleas for Marion County.
Well known as a capable lawyer, in 1856 Hammond, a former Whig, was elected lieutenant governor on the Democratic ticket with Ashbel Willard. When Willard died in office in October, 1860, Hammond served out the remaining three months of Willard's term as governor.
Medium-sized and compactly built, Hammond had a poker face and a self-contained manner. Contemporary observers wondered how he managed to build a law practice, since he was "not content to sit in his office and wait for a client." Soon after his term was over Hammond was severely afflicted with rheumatism and asthma, and he died in Denver, Colorado, in 1874.
Source: Peat, Wilbur D. Portraits and Painters of the Governors of Indiana 1800-1978. Revised, edited and with new entries by Diane Gail Lazarus, Indianapolis Museum of Art. Biographies of the governors by Lana Ruegamer, Indiana Historical Society. Indianapolis: Indiana Historical Society and Indianapolis Museum of Art, 1978.