Indiana Governor's Portrait Artist - Michael Chelich - O'Bannon
Michael A. Chelich (b. 1963)
Artist, Indiana Governors' Portrait Collection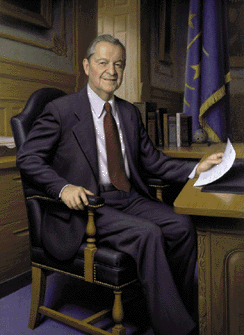 Frank O'Bannon (b. 1930)
Governor of Indiana
January 13, 1997 - September 13, 2003
Artist: Michael A. Chelich (b. 1963)
oil on canvas, 39 x 54
Michael Chelich was selected in 2000 from thirty-two artists living and working in Indiana who submitted materials to compete for the portrait commission. The Governor's Portrait Committee selected eight finalists based on the artists' submissions of slides and photographs of their work. Finalists then provided actual portraits for the Committee to review.
Chelich began his work on the portrait in February 2001 by taking photographs of the Governor in order to select the pose and document the context of the Governor's office. Using the photographs, Chelich provided sketches from which the final pose was selected. The Governor then sat for a pastel facial study for several afternoons in his office. There was a final session with the Governor for photographs of his hands in the pose positions. Governor O'Bannon devoted approximately eight hours to fulfill the legislative mandate to have his portrait painted.
In Hammond, Chelich's studio became the Governor's office with a plaster cast dressed in the governor's clothes, seated in the Governor's chair. Chelich used the photographs of the office to provide the background for the portrait, combining reality with artistic license to produce a pleasing and meaningful composition. The Governor is shown in a
lifelike pose pausing in his work; the background includes the suggestion of three of the portraits that hang in his office from the Governors' Portraits Collection.
Michael Chelich is a native Hoosier residing in Hammond, Indiana, where he teaches and paints at his art studio. He also teaches at the School of Representational Art in Chicago. He began his studies in 1982 at the American Academy of Art, Chicago. He continued his education in Minneapolis at the Atelier Lack School of Art, a school dedicated to the revival of excellence in craftsmanship.
Chelich's artwork weaves lustrous colors, richly decorated forms and textures, and striking value contrasts into classically orchestrated artworks of fine craftsmanship. His painterly skills are combined with thoughtful and sensitive portrayal of nature and the human countenance. His creative style has been refined through years of intensive study and practice in the classical methods of drawing and painting. This training has its roots in the classical and impressionistic schools of eighteenth-century France.
Source: Indiana Historical Bureau
Return to Frank O'Bannon.