Indiana Governor Portrait Artist: Wayman Adams (1883 - 1959) - Ralston
Wayman Adams
Artist, Indiana Governors' Portrait Collection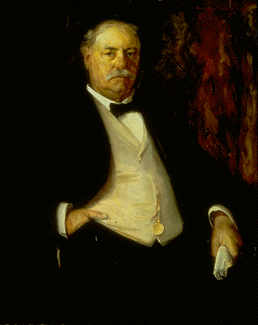 Samuel Moffett Ralston (1857-1925), painted 1916
Governor of Indiana
January 13, 1913-January 8, 1917
Artist: Wayman Adams, American, 1883-1959
oil on canvas, 43 1/4 x 36 1/8 (109.9 x 91.8)
Signed and dated u.r.: Wayman Adams January/1916
SAMUEL M. RALSTON'S portrait was the second commission received by Wayman Adams from the state (1) and the first to be painted by him while the subject was in office. The sittings were held in the artist's Indianapolis studio in the State Savings and Trust Building on Market Street, and the portrait was completed in December, 1916. (2) A local newspaper reported,
Mr. Adams is just finishing a portrait of Governor Ralston, and the work is going to stand out as one of the young artist's best. He has the Governor in a characteristic pose, and those who know the Governor intimately say Mr. Adams has done a distinctive piece of work. (3)
Ralston is shown in a front view pose, his right hand in his pocket and his left hand holding some papers. The gesture, exposing a wide expanse of vest and a dangling packet watch, draws attention to the governor's portly figure. Technically, the picture is exceptional: the artist has worked rapidly and with apparent ease, and has caught the likeness as the newspaper article suggests; he has seen the head clearly and drawn it well, and he has studied the character of the sitter sympathetically. Adams has placed the sitter close to the picture plane, so that the viewer is made to feel Ralston's casual, direct nature.
(1) An article in the Indianapolis News, of March 14, 1916, states that Ralston agreed to sit for the portrait at Adams's request. While the circumstance surrounding the commission are unknown, it is likely that the portrait was painted expressly for the State House collection.
(2) While the canvas bears the date "January, 1916," contemporary newspaper articles indicate that the portrait was not completed until a later date. Peat's date of December, 1916, is not documented, but he probably had this information from the artist.
(3) Indianapolis News, May 20, 1916, p. 17, col. 8.
Source: Peat, Wilbur D. Portraits and Painters of the Governors of Indiana 1800-1978. Revised, edited and with new entries by Diane Gail Lazarus, Indianapolis Museum of Art. Biographies of the governors by Lana Ruegamer, Indiana Historical Society. Indianapolis: Indiana Historical Society and Indianapolis Museum of Art, 1978.
Visit the Indiana History Blog to learn about the lost portrait of Gov. Ralston's wife, Jennie Ralston.