Indiana Governor Portrait Artist: Wayman Adams (1883 - 1959) - McNutt
Wayman Adams
Artist, Indiana Governors' Portrait Collection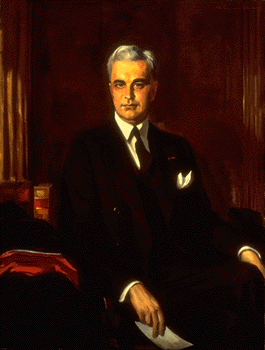 Paul Vories McNutt (1891-1955), painted 1933
Governor of Indiana
January 9, 1933-January 11, 1937
Artist: Wayman Adams, American, 1883-1959
oil on canvas, 51 7/8 x 40 1/8 (131.8 x 101.9)
Signed u.r.: Wayman Adams
PAUL MCNUTT was the sixth governor to select Wayman Adams to paint his portrait for the official collection. Although the artist was living in New York at the time, he came to Indianapolis at the governor's request to carry out the commission. This was in the summer of 1933. Sittings were held in one of the studios of the John Herron Art Institute, and rather than let the enterprise interfere with administrative duties, the governor had his secretary accompany him so that letters could be dictated while he posed. (1) Upon completion, the portrait did not satisfy McNutt and his friends, and a second one was undertaken. This time, the executive office at the State House became the studio. The work progressed as well as could be expected under the circumstances, and when the portrait was finished, it had the approval of the governor.
McNutt faces the front, sitting rather stiffly in a chair, with his right elbow resting on a table. A letter held loosely in the fingers of his right hand draws the eye to the lower edge of the canvas, accentuating the long vertical axis of the composition. The canvas is large and more colorful than any of the earlier portraits by Adams. The characterization seems weak, but the decorative quality and facile brushwork appropriately express the governor's urbane, affable manner.
(1) Indianapolis Star, June 20, 1933, p. 9, col.7; August 13, 1933, rotogravure section, p. 1.
Source: Peat, Wilbur D. Portraits and Painters of the Governors of Indiana 1800-1978. Revised, edited and with new entries by Diane Gail Lazarus, Indianapolis Museum of Art. Biographies of the governors by Lana Ruegamer, Indiana Historical Society. Indianapolis: Indiana Historical Society and Indianapolis Museum of Art, 1978.