Indiana Governor Portrait Artist: Wayman Adams (1883 - 1959) - Marshall
Wayman Adams
Artist, Indiana Governors' Portrait Collection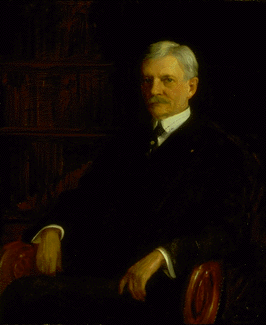 Thomas Riley Marshall (1854-1925), painted 1919
Governor of Indiana
January 11, 1909-January 13, 1913
Artist: Wayman Adams, American, 1883-1959
oil on canvas, 43 x 36 (109.3 x 91.4)
Signed u.l.: Wayman Adams
THE PORTRAIT of Thomas R. Marshall, the third by Wayman Adams, was painted in Washington, nearly seven years after the end of Marshall's governship and toward the close of his second term as Vice-President of the United States. The sittings were held in his office during December, 1919, and a report of the work's completion came through the story of the Washington correspondent of the Indianapolis News that a "very lifelike portrait of Vice-president Marshall is on exhibition at his office here. It was painted by Wayman Adams, a New York artist, formerly of Indianapolis. An appropriation to pay for it was made by the Indiana legislature."(1)
The artist has shown marshall in a seated pose, relaxed, but not without dignity. He appears to be turning toward his right, his hands hanging listlessly from the arms of a chair. One gets the impression that he was a sagacious gentleman, with considerable will power and inner force; and it is easy to understand, through the portrait, how his personality and industry brought him national prominence. Adams has recorded Marshall's likeness with so suave a technique and with such restraint of color that an air of distinction permeates the canvas.
(1) Indianapolis News, December 15, 1919, p. 12, col. 8; the portrait is illustrated in the News, December 20, 1919 on p. 17.
Source: Peat, Wilbur D. Portraits and Painters of the Governors of Indiana 1800-1978. Revised, edited and with new entries by Diane Gail Lazarus, Indianapolis Museum of Art. Biographies of the governors by Lana Ruegamer, Indiana Historical Society. Indianapolis: Indiana Historical Society and Indianapolis Museum of Art, 1978.