Indiana Governor Portrait Artist: Theodore Clement Steele (1847 - 1926) - Porter
Indiana Governor Portrait
Artist: Theodore Clement Steele (1847 - 1926)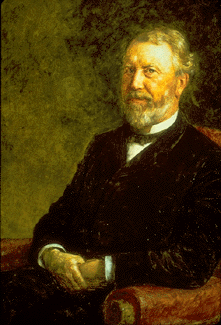 Albert Gallatin Porter (1824-1897), painted 1885
Governor of IndianaJanuary 10, 1881-January 12, 1885
Artist: Theodore Clement Steele, American, 1847-1926
oil on canvas, 40 1/4 x 30 (102 x 76.1)
Signed and dated l.r.: T. C. Steele/1885
Theodore Clement Steele, perhaps one of the most revered of all painters who remained in this state, was a native of Indiana. He was born in Owen County in 1847. When he was four years old, his family moved to Waveland, where he received his early schooling and some instruction in art at the Waveland Academy. He had very little formal training in painting, but he probably derived some help from visits to Cincinnati and Chicago in his impressionable years. His first activities as a professional painter took him to Battle Creek, Michigan, in 1870. Three years later he moved to Indianapolis and opened a studio on the Bradshaw Block, where he remained until 1880. Portrait painting continued to be his chief activity during that period, and although he painted several prominent people, he was not commissioned to portray the governors then in office. In 1880, he went abroad for more intensive training at the Royal Academy of Art in Munich and stayed there five years.
UPON HIS RETURN to Indianapolis in the summer of 1885 from Munich, T. C. Steele opened his studio again and began taking commissions for portraits. One of his first was that of Porter. Circumstantial evidence points to the probability that Porter postponed having his portrait painted until Steele returned, knowing something of the artist's ability and reputation. It must have been an important assignment for Steele, in that it would help greatly in re-establishing him in the city.(1)
Technically, that portrait reflects that academic method of painting that was prevalent in the Munich schools late in the nineteenth century. The palette is dark and limited, and the method of execution is controlled. A series of thin glazes are built up by the layering of brushstrokes, creating a luminosity and fine texture in the skin tones. In this early portrait, however, technique seems to have been an overriding concern, leaving the pose and expression somewhat frozen. While the portrait reflects the governor's kindly disposition, it displays none of the forcefulness of this accomplished man's character.
(1) The painting was exhibited at A. Lieber and Company, Indianapolis, on July 20, 1885; see, respectively, Steele, Steele, and Peat, The House of the Singing Winds, p. 33, and George Chambers Calvert, Theodore C. Steele Memorial Exhibition, Indianapolis, 1926, p. 17, no. 61.)
Source: Peat, Wilbur D. Portraits and Painters of the Governors of Indiana 1800-1978. Revised, edited and with new entries by Diane Gail Lazarus, Indianapolis Museum of Art. Biographies of the governors by Lana Ruegamer, Indiana Historical Society. Indianapolis: Indiana Historical Society and Indianapolis Museum of Art, 1978.