Indiana Governor Portrait Artist: Theodore Clement Steele (1847 - 1926) - Hovey
Theodore Clement Steele
Artist, Indiana Governors' Portrait Collection (1847 - 1926)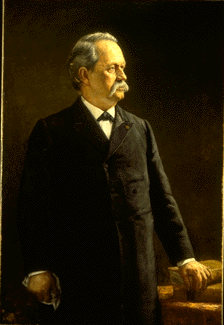 Alvin Peterson Hovey (1821-1891), painted 1889
Governor of Indiana
January 14, 1889-November 23, 1891
Artist: Theodore Clement Steele, American, 1847-1926
oil on canvas, 40 x 30 (101.7 x 76.4)
Signed and dated l.r.: T. C. Steele/1893
Theodore Clement Steele, perhaps one of the most revered of all painters who remained in this state, was a native of Indiana. He was born in Owen County in 1847. When he was four years old, his family moved to Waveland, where he received his early schooling and some instruction in art at the Waveland Academy. He had very little formal training in painting, but he probably derived some help from visits to Cincinnati and Chicago in his impressionable years. His first activities as a professional painter took him to Battle Creek, Michigan, in 1870. Three years later he moved to Indianapolis and opened a studio on the Bradshaw Block, where he remained until 1880. Portrait painting continued to be his chief activity during that period, and although he painted several prominent people, he was not commissioned to portray the governors then in office. In 1880, he went abroad for more intensive training at the Royal Academy of Art in Munich and stayed there five years.
THE PORTRAIT of Claude Matthews is the fifth and last in the series by T. C. Steele from life. In coloration and use of direct studio lighting, it is very much like the portrait of Governor Gray. It was painted in the first year of Matthews's administration, and, like the portrait of Governor Gray, may have been painted in the State House.
There is nothing unusual about either the pose or the composition, and while the execution is most competent, it is without dash or eccentricity. Apparently, Claude Matthews did not present to the artist so rich a personality as did some of his predecessors, although he has the appearance of a capable administrator. Placed in an unadorned setting, his black suit silhouetted against a dark olive background, he sits rather stiffly in a mahogany chair, his hands and arms relaxed. The pose suggests a somewhat self-conscious subject only mildly interested in the experience of having his portrait painted.
Steele's portraits of the governors seemed to have attracted more comment than the paintings of other artists who had worked on the project. This was probably due to the growing interest in the official collection at the time and to the increasing popularity of the painter among his fellow townsmen. However, despite his success in this field, Steele gradually turned his attention to landscape painting and toward the end of his life produced very few portraits. The five by him in the State House are among his finest.
Source: Peat, Wilbur D. Portraits and Painters of the Governors of Indiana 1800-1978. Revised, edited and with new entries by Diane Gail Lazarus, Indianapolis Museum of Art. Biographies of the governors by Lana Ruegamer, Indiana Historical Society. Indianapolis: Indiana Historical Society and Indianapolis Museum of Art, 1978.