Indiana Governor Portrait Artist: Theodore Clement Steele (1847 - 1926) - Gray
Theodore Clement Steele
Artist, Indiana Governors' Portrait Collection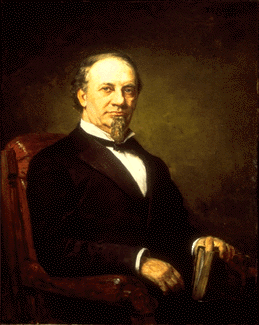 Isaac Pusey Gray (1825-1895)
Governor of IndianaNovember 20, 1880-January 10, 1881
January 12, 1885-January 14, 1889
Artist: Theodore Clement Steele, American, 1847-1926
oil on canvas, 40 1/8 x 32 1/8 (101.9 x 81.6)
Signed and dated u.r.: T. C. Steele/1888
WITH THE PORTRAIT of Isaac Pusey Gray there begins a series of five paintings of governors by T. C. Steele. (1) These are not to be confused with the four paintings made by him in connection with the state centennial in 1916.
Theodore Clement Steele, perhaps one of the most revered of all painters who remained in this state, was a native of Indiana. He was born in Owen County in 1847. When he was four years old, his family moved to Waveland, where he received his early schooling and some instruction in art at the Waveland Academy. He had very little formal training in painting, but he probably derived some help from visits to Cincinnati and Chicago in his impressionable years. His first activities as a professional painter took him to Battle Creek, Michigan, in 1870. Three years later he moved to Indianapolis and opened a studio on the Bradshaw Block, where he remained until 1880. Portrait painting continued to be his chief activity during that period, and although he painted several prominent people, he was not commissioned to portray the governors then in office. In 1880, he went abroad for more intensive training at the Royal Academy of Art in Munich and stayed there five years.
Isaac P. Gray is portrayed in a gracious and sympathetic way by T. C. Steele. He is seated at ease in a large chair, upholstered in red leather, undoubtedly the one used in his executive office. This leads us to conclude that the portrait was painted in the State House. (2)
Governor Gray confronts the viewer with an astute look, his right shoulder turned toward the front. In his left hand he holds a book in which he marks a page, a device used commonly in portraiture with varying degrees of success, to indicate momentarily suspended activity and in this collection in the portrait of Ashbel Willard and David Wallace. The effect of light and air enveloping the model is unusually convincing; forms are well modeled without appearing hard, and the brush has moved across the canvas with apparent ease. The warm, olive background and deep red upholstery of the chair serve to complement the sallow complexion and sandy-colored hair. Steele seems to have reached his stride, so to speak, with this portrait, because technical problems have been solved with less effort than in the painting of Governor Albert Porter which preceded it.
(1) For a discussion of the governors' portraits painted by T. C. Steele in the context of a complete biography of the artist, see Selma N. Steele, Theodore L. Steele, and Wilbur D. Peat, The House of the Singing Winds, Indianapolis, 1966.
(2) This is supported by the recollections of the artist's son, Brandt Steele, to Wilbur Peat. See Charles J. Oval, Governors of Indiana, Indianapolis, 1916, with supplementary notes about the portraits and artists added by Wilbur D. Peat, 1939, p. 95, in the Stout Reference Library, Indianapolis Museum of Art.
Source: Peat, Wilbur D. Portraits and Painters of the Governors of Indiana 1800-1978. Revised, edited and with new entries by Diane Gail Lazarus, Indianapolis Museum of Art. Biographies of the governors by Lana Ruegamer, Indiana Historical Society. Indianapolis: Indiana Historical Society and Indianapolis Museum of Art, 1978.