Indiana Governor Portrait Artist: Theodore Clement Steele (1847 - 1926) - Chase
Theodore Clement Steele
Artist, Indiana Governors' Portrait Collection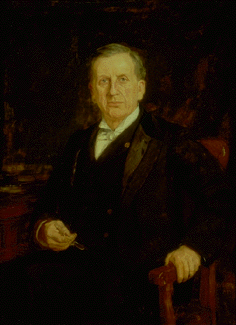 Ira Joy Chase (1834-1895), painted 1892
Governor of IndianaNovember 23, 1891-January 9, 1893
Artist: Theodore Clement Steele, American, 1847-1926
oil on canvas, 40 1/4 x 30 (102.2 x 76.2)
Signed and dated l.r.: T. C. Steele/1892
Theodore Clement Steele, perhaps one of the most revered of all painters who remained in this state, was a native of Indiana. He was born in Owen County in 1847. When he was four years old, his family moved to Waveland, where he received his early schooling and some instruction in art at the Waveland Academy. He had very little formal training in painting, but he probably derived some help from visits to Cincinnati and Chicago in his impressionable years. His first activities as a professional painter took him to Battle Creek, Michigan, in 1870. Three years later he moved to Indianapolis and opened a studio on the Bradshaw Block, where he remained until 1880. Portrait painting continued to be his chief activity during that period, and although he painted several prominent people, he was not commissioned to portray the governors then in office. In 1880, he went abroad for more intensive training at the Royal Academy of Art in Munich and stayed there five years.
THE SITTINGS for the portrait of Ira J. Chase were given in 1892, probably at Steele's studio, (1) to which the artist moved shortly after his return from Munich. The Tinker home, Steele's studio, later became the site of the John Herron Art Institute.
In many ways, the Chase portrait is the best of the series painted by Steele for the official collection. Perhaps the better working conditions that prevailed in a well-equipped studio, away from the disturbances of executive routine, had much to do with its success. Another factor must have been the artist's mastery of a method which was most congenial to his temperament. The portrait has an airiness about it, reflecting the gradual drift in popularity away from the tight Munich academic style toward the new impressionist techniques. The broader execution and warmer palette create a convincing sense of atmosphere and depth, and a variety of textures are well expressed. Governor Chase is seated erect in a mahogany chair, turning away from his desk toward the right. His attitude and personality are convincingly described by the artist, for he seems alert and attentive to whatever is going on around him. One is made to feel a fine character behind the eyes that look out from the canvas with an earnestness and understanding.
(1) Brandt Steele, son of the artist, related this information to Wilbur Peat. See Oval, Governors of Indiana, p. 103.
Source: Peat, Wilbur D. Portraits and Painters of the Governors of Indiana 1800-1978. Revised, edited and with new entries by Diane Gail Lazarus, Indianapolis Museum of Art. Biographies of the governors by Lana Ruegamer, Indiana Historical Society. Indianapolis: Indiana Historical Society and Indianapolis Museum of Art, 1978.