Indiana Governor Portrait Artist: Simon Paul Baus (1882 - 1969)
Simon Paul Baus
Artist, Indiana Governors' Portrait Collection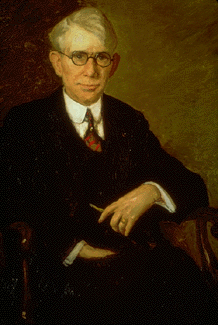 Emmett Forrest Branch (1874-1932), painted 1927
Governor of Indiana
April 30, 1924-January 12, 1925
Artist: Simon Paul Baus, American, 1882-1969
oil on canvas, 40 x 32 (101.7 x 81.3)
Signed and dated l.l.: BAUS/27
THE PORTRAIT of Emmett Branch is the work of an Indianapolis painter, Simon P. Baus. It was painted in 1927, two years after Branch left office, and was accepted for the gallery of governors in 1928. (1) Branch was living in Martinsville at the time, but the sittings were held in Baus's studio in Indianapolis.
According to the artist, Branch enjoyed the experience. As the sittings drew to a close, he was frequently accompanied by Mrs. Branch who added much to the genial atmosphere of the studio. The governor's main concern had to do with his glasses: he could not decide at first whether to be painted with them on or to take them off. He finally left them on.
The portrait shows him in a front-view position, leaning slightly forward with his eyes directed toward the spectator through large, dark-rimmed glasses. His pose is natural and unassuming, while his expression is kind and attentive. His blue-black suit is seen against a tan background, and a striped necktie adds a colorful touch to the composition. A certain decorative charm has resulted from the artist's tendency to simplify forms and emphasize the pattern throughout the picture.
Simon Baus, the artist, was born in Indianapolis, and except for a few trips to the Southwest, he spent most of his life in his native city. He received his first instruction in drawing under Otto Stark at Manual Training High School, and later he entered an evening class conducted by William Forsyth. Upon the opening of Indianapolis Art Association's school, Baus studied under J. Ottis Adams, continuing there as a part-time student until 1911. Baus painted many notable Indiana people during his career as an artist, which he supplemented financially by working in the Indianapolis Post Office as a postal clerk for forty-five years. In 1966, Baus moved to Kent, Ohio, where he died three years later.
(1) The portrait was reproduced in the Indianapolis News, January 7, 1928, with mention that it had just been accepted for the gallery of governors at the State House.
Source: Peat, Wilbur D. Portraits and Painters of the Governors of Indiana 1800-1978. Revised, edited and with new entries by Diane Gail Lazarus, Indianapolis Museum of Art. Biographies of the governors by Lana Ruegamer, Indiana Historical Society. Indianapolis: Indiana Historical Society and Indianapolis Museum of Art, 1978.