Indiana Governor Portrait Artist: Robert W. Grafton (1876 - 1936) - McCray
Robert W. Grafton
Artist, Indiana Governors' Portrait Collection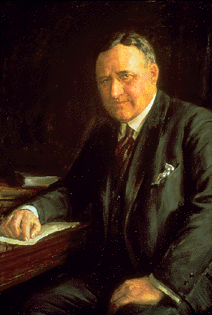 Warren Terry McCray (1865-1938), painted 1927
Governor of Indiana
January 10, 1921-April 30, 1924
Artist: Robert W. Grafton, American, 1876-1936
oil on canvas, 40 x 30 (101.5 x 76.2)
Unsigned
WARREN T. MCCRAY'S portrait for the State House was painted by Robert W. Grafton, a prominent Indiana artist. The picture bears no date, but it is said to have been painted in 1927, three years after McCray submitted his resignation as governor. It is a rather frank portrayal of the man. He is shown in a chair, leaning forward with his right hand resting on a large sheet of paper, and his left hand pressing against his leg. Although the picture does not convey a strong personality, it seems to suggest forcefulness tinged with shrewdness.
The technique is realistic in the rendering of features and details; the drawing is tight; and, except for the flesh tints, the colors are cold and grey. Lacking breadth of execution and pleasing color organization, the portrait loses much of its pictorial effectiveness.
The artist, Robert Grafton, was born in Chicago in 1876. He received most of his instruction in art at the Art Institute there, then traveled and painted in England, France, and Holland. Upon his return to this country, he made his home in Michigan City, Indiana, and soon gained wide recognition for the variety and sentiment of his pictures. Although he painted figure compositions and murals, he is best known for his portraits of educators, professional men, and public officials. The three which he painted for the state-of McCray, Jackson, and Leslie-are among his most important commissions. He died in 1936.
Source: Peat, Wilbur D. Portraits and Painters of the Governors of Indiana 1800-1978. Revised, edited and with new entries by Diane Gail Lazarus, Indianapolis Museum of Art. Biographies of the governors by Lana Ruegamer, Indiana Historical Society. Indianapolis: Indiana Historical Society and Indianapolis Museum of Art, 1978.