Indiana Governor Portrait Artist: Robert W. Grafton (1876 - 1936) - Leslie
Robert W. Grafton
Artist, Indiana Governors' Portrait Collection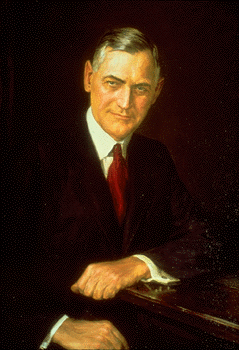 Harry Guyer Leslie (1878-1937), painted 1929
Governor of Indiana
January 14, 1929-January 9, 1933
Artist: Robert W. Grafton, American, 1876-1936
oil on canvas, 40 x 30 1/4 (101.6 x 76.8)
Signed and dated l.r.: Robt W. Grafton/1929
THE THIRD PORTRAIT by Robert W. Grafton in the State House is that of Harry G. Leslie. It was painted 1929, the governor's first year in office. A certain amount of spirit and animation have been suggested by the forced pose: Leslie leans forward, his left arm on a table and his right hand on his knee, regarding the observer with a look of shrewd scrutiny.
The technique, like that of other paintings by Grafton, is deliberate and painstaking; the colors are dark, while their monotony is only slightly relieved by a deep red necktie and rosy flesh tints. Shadows are heavy, and the transition of forms from shadow into light is startling. While the painting is lacking in pictorial quality, it unquestionably presents the sitter with exactitude.
Source: Peat, Wilbur D. Portraits and Painters of the Governors of Indiana 1800-1978. Revised, edited and with new entries by Diane Gail Lazarus, Indianapolis Museum of Art. Biographies of the governors by Lana Ruegamer, Indiana Historical Society. Indianapolis: Indiana Historical Society and Indianapolis Museum of Art, 1978.