Indiana Governor Portrait Artist: Robert W. Grafton (1876 - 1936) - Jackson
Robert W. Grafton
Artist, Indiana Governors' Portrait Collection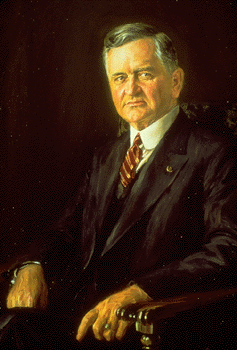 Edward L. Jackson (1873-1954), painted 1927
Governor of Indiana
January 12, 1925-January 14, 1929
Artist: Robert W. Grafton, American, 1876-1936
oil on canvas, 40 x 30 1/8 (101.6 x 76.5)
Signed and dated l.r.: Robt W. Grafton/1927
THE PORTRAIT of Governor Ed Jackson was the second made for the state by Robert W. Grafton, painted midway in Jackson's administration in 1927. That it was made at Dunes State Park should be of general interest: Jackson was greatly impressed by the unique beauty of the Indiana dunes, and the consummation of the acquisition of the tract by the state for a park during his administration was a source of satisfaction to him. Since this enthusiasm was shared by the artist, we may believe that the portrait was created under most favorable circumstance.
Grafton has sympathetically interpreted his subject. Jackson is shown seated in a three-quarter pose, his head turning back toward the observer. His appearance as well as his personality seems faithfully described. Grafton's meticulous and prosaic method of working, together with his predilection for somber colors, has resulted in a dull effect. Not even the very pink complexion which he has given his model relieves its sobriety.
Source: Peat, Wilbur D. Portraits and Painters of the Governors of Indiana 1800-1978. Revised, edited and with new entries by Diane Gail Lazarus, Indianapolis Museum of Art. Biographies of the governors by Lana Ruegamer, Indiana Historical Society. Indianapolis: Indiana Historical Society and Indianapolis Museum of Art, 1978.