Indiana Governor Portrait Artist: Mark Dillman (b. 1955)
Mark Dillman
Artist, Indiana Governors' Portrait Collection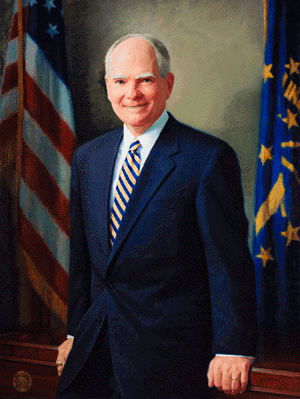 Joseph E. Kernan (b. 1946), painted 2005
Governor of Indiana
September 13, 2003 - January 10, 2005
Artist: Mark Dillman, American, b. 1955
oil on canvas, 42 x 32
Signed l.r. Mark Dillman

Nationally recognized artist Mark Dillman of Indianapolis was selected by a panel that was led by former First Lady Maggie Kernan to paint the official state portrait of former Governor Joe Kernan.
State statute requires that an official portrait of each governor be made. The Indiana Historical Bureau maintains the state's Governors' Portraits Collection. All of the portraits are on public display, most in offices throughout the State House.
"Mark's tremendous ability as a portrait artist speaks for itself," Governor Kernan said. "He's been recognized nationally, and continues to put his talents to work here in Indiana. It's an honor to have an artist with his skill take on this portrait."
Private funds have been raised to cover the artist's commission, framing and related expenses. Any money raised that exceeded expenses went to the Governors' Portraits Collection fund.
Dillman has exhibited competitively throughout the U.S. including a "Best of Show," juried by Richard Schmid, for the 32nd National Poudre Valley Art Exhibition, Fort Collins, CO, in 1993. He has also been a frequent exhibitor and award winner at the Hoosier Salon, Indiana State Fair and other regional art shows, and is a former officer and board member of the Indiana Artists Club.
Dillman studied portrait painting under Edmund Brucker while attending the John Herron School of Art in Indianapolis. He has been commissioned for other portraits, including James Dean for the Indiana Historical Society Collection; William B. Martin, chancellor, Franklin College; Jerry Israel, president, University of Indianapolis; and Bobby Fong, president, Butler University.
Dillman maintains a studio on the south side of Indianapolis.
He and his wife, Lynn, have two sons, Craig and Cory. His exhibition highlights are listed below.
Mark Dillman Exhibition Highlights:
* Best of Show, Indiana State Fair, Jim Cantrell, juror, 2004
* Outstanding Work, Hoosier Salon, David P. Hettinger and Warren Taylor, jurors, 2003
* Figurative Works '01, Armory Art Center, West Palm Beach, FL, Susan Masouka, juror, 2001
* Regional Exhibition, Indiana University Kokomo, John P. Gee, juror, 1999
* W&J National Painting Show, Washington and Jefferson College, Washington, PA, Tony DeBlasi, juror,1995
* Best of Show, 32nd National Poudre Valley Art Exhibition, Fort Collins, CO, Richard Schmid, juror, 1993
* First Street Gallery National Competition, New York, NY, Janet Fish, juror, 1993
* 47th Annual Wabash Valley Exhibition, Sheldon Swope Art Museum, Bret Waller, juror, 1993
* Best of Show, Indiana State Fair, Anne Farley Gaines and Lanore Cady, jurors, 1991
* Merit Award, Anderson Winter Show, Frank Gettings, juror, 1988
* 52nd National Midyear Exhibition, Butler Institute of American Art, Youngstown, OH, Kenneth Noland, Phil Desind and Douglas Schultz, jurors, 1988