Indiana Governor Portrait Artist: John Bayless Hill (1849 - 1874) - Hammond
John Bayless Hill
Artist, Indiana Governors' Portrait Collection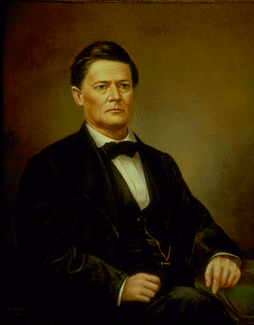 Abram Adams Hammond (1814-1874)
Governor of Indiana
October 4, 1860-January 14, 1861
Artist: John Bayless Hill, American, 1849-1874
oil on canvas, 36 x 29 (91.4 x 73.7)
Signed and dated l.l.: Jno. B. Hill./Pinxt/1869
THE PORTRAIT of Abram A. Hammond was the second commission given by Governor Baker to John B. Hill, the young Indianapolis artist. It was made from life, eight years after the close of Governor Hammond's incumbency, and while he was practicing law in Indianapolis.
The sitter is portrayed very objectively, and the paint is applied in an indecisive, laborious way, with considerable emphasis on details of costume and lines of the face. Hill was not a skillful technician, and lacking experience as a portrait painter, he had a tendency to exaggerate minor elements, such as wrinkles, folds, and buttons. The color, too, is dull.
As one of the few extant paintings by Hill, and unquestionably his most important made from life, the portrait of Hammond is of more than passing interest. The tired and rather wan look on the governor's face was doubtless due to his poor health at the time the portrait was painted.
Source: Peat, Wilbur D. Portraits and Painters of the Governors of Indiana 1800-1978. Revised, edited and with new entries by Diane Gail Lazarus, Indianapolis Museum of Art. Biographies of the governors by Lana Ruegamer, Indiana Historical Society. Indianapolis: Indiana Historical Society and Indianapolis Museum of Art, 1978.