Indiana Governor Portrait Artist: James Forbes (c. 1800 - ?) - Jennings
James Forbes
Artist, Indiana Governors' Portrait Collection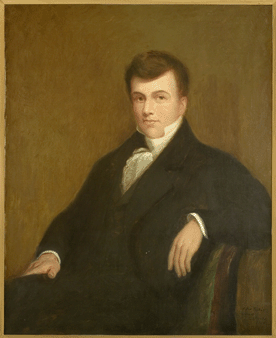 Jonathan Jennings (1784-1834)
Governor of Indiana
November 7, 1816-September 12, 1822
Artist: James Forbes, American, c.1800-?
oil on canvas, 36 x 29 (91.5 x 73.6)
Signed l.l.: Jas. Forbes/Pinxt
THE SIGNATURE which appears on the portrait of Jonathan Jennings has an unfamiliar ring to students of Indiana art. Dunn says, in writing of the governors' portraits: "there had been a Canadian painter, James Forbes, who visited Evansville, and painted a portrait of John B. Baker, brother of Governor Baker, and impressed the Governor with his ability as an artist. Nothing is known of Forbes here beyond his work, and the fact that he was a typical Englishman in appearance and dress. Governor Baker had Forbes paint his own portrait, and also the portraits of Governors Jennings, Whitcomb, Dunning and Morton." (1) To these should be added the name of Governor Boon.
It is surprising to learn that a stranger was commissioned to paint so many of the official portraits, and that his visit was so shrouded in mystery that no one was able to give a report of him after he left Indianapolis. It is known that his name was brought to Governor Baker's attention by H.F. Blount, of Evansville, who wrote to the Governor about his work, adding: "I should be glad if he might be favorably remembered in the selection of an artist." (2) Forbes had returned to Chicago and Baker wrote to him there asking if he would consider painting certain of the governors. Forbes replied that he would, and in the correspondence that followed he expounded some of his theories on portrait painting but, unfortunately, said nothing about his career as an artist. (3)
Contrary to Dunn's statement, James Forbes was a Scotsman, not a Canadian. He was born in Scotland about 1800, and before emigrating had received training in his native land, and had exhibited paintings at the Royal Scottish Academy and at the Royal Academy, London. It is not known when he came to America, but he had a studio in Chicago after 1860. (4) Dunn's reference to him as a Canadian suggests that he lived in Canada prior to coming to Chicago, but this has not been verified. After completing his commissions for Indiana nothing more was heard of him here; even the date and place of his death have not been determined.
As no original portrait of Jonathan Jennings could be purchased by the state in 1869, it was again necessary to find a picture for Forbes to copy. It is well established that he used a miniature which Jennings brought as a present to Ann Hays, his fiancee, upon his return from his first year as Indiana's delegate in Congress. (5) Forbes has effectively captured the spirit of the original, yet he has worked so broadly that his version does not reveal its derivation from a miniature. The artist has extended the portrait to include the hands and upper torso. Since the original was painted about 1810, the Forbes painting makes Jennings look younger than he actually was during his administration. He appears as a dapper young man, stylish in dress, with a forthright, intelligent face. The colors are subdued, and, although they do not conform with descriptions of the subject's coloration, they give the portrait a rich effect.
Jonathan Jennings was the second "epochal" governor whom T. C. Steele painted for Samuel Ralston in 1916, so there are two portraits of him in the State House. These are so similar that it is reasonable to assume that Steele copied the one by Forbes or used a photograph of the miniature referred to above.
(1) Dunn, Greater Indianapolis, I, 481.
(2) Blount to Governor Baker, July 7, 1869. Governor Baker's correspondence.
(3) Forbes to Governor Baker, July 20 and 29, August 6, and September 1, 1869. Ibid.
(4) Ulrich Thieme and Felix Becker (eds.), Allgemeines Lexikon der bildenden Kunstler. . . , Leipsig, XII, 1916, p. 201.
(5) Mabel C. Morrison, Ann Gilmore Hay, Wife of Jonathan Jennings from 1811 to 1826, Indianapolis, 1925, p. 12; see also p. 20 for a reproduction of the picture from which Forbes worked. A photograph of the miniature is in the Picture Collection, Indiana State Library.
Source: Peat, Wilbur D. Portraits and Painters of the Governors of Indiana 1800-1978. Revised, edited and with new entries by Diane Gail Lazarus, Indianapolis Museum of Art. Biographies of the governors by Lana Ruegamer, Indiana Historical Society. Indianapolis: Indiana Historical Society and Indianapolis Museum of Art, 1978.