Indiana Governor Portrait Artist: James Forbes (c. 1800 - ?) - Boon
James Forbes
Artist, Indiana Governors' Portrait Collection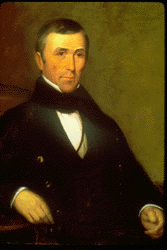 Ratliff Boon (1781-1844)
Governor of Indiana
September 12-December 5, 1822
Artist: James Forbes, American, c.1800-?
oil on canvas, 36 x 29 (91.5 x 73.6)
Signed and dated l.r.: Jas. Forbes/Copied 1870/Original/18.?.
RATLIFF BOON is represented in the portrait collection by a painting which also bears the signature of James Forbes. (1) An inscription indicates that the painting was copied in 1870, but, due to an overcleaning or fading of the inscription, the source of the copy is no longer discernible.
The search for the portrait which would serve as a model took place in 1869, twenty-five years after Boon's death and was directed toward Boonville Indiana. Isaac S. Moore informed Governor Baker that John Hacpole of that town had a picture of "Mr. Boon said to be a good likeness of him," (2) and evidently it was the one which Forbes copied. This may be the same portrait of Ratliff Boon which was obtained in Boonville at the time that the Corydon capitol building was being restored. (3)
From this portrait Forbes succeeded in making a convincing likeness of his subject. The pose is quiet but not without the suggestion of vitality; the features are sensitively drawn and clean-cut; and Boon's expression is one of thoughtfulness as he gazes out into space. The colors are full-bodied: a black suit and a tawny face are set against a warm brown background, and a deep red note is made by the chair on the left side of the composition.
(1) This portrait is erroneously assigned to Jacob Cox by Dunn in Greater Indianapolis, I, 481.
(2) Moore to Governor Baker, September 22, 1869. Governor Baker's correspondence.
(3) The portrait of Ratliff Boon from which the Forbes portrait may be a copy is in the collection of the Indiana State Division of Historic Preservation and is currently housed at Corydon Capital State Memorial.
Source: Peat, Wilbur D. Portraits and Painters of the Governors of Indiana 1800-1978. Revised, edited and with new entries by Diane Gail Lazarus, Indianapolis Museum of Art. Biographies of the governors by Lana Ruegamer, Indiana Historical Society. Indianapolis: Indiana Historical Society and Indianapolis Museum of Art, 1978.