Indiana Governor Portrait Artist: Helen Briggs Duckwall (b. 1912)
Helen Briggs Duckwall
Artist, Indiana Governors' Portrait Collection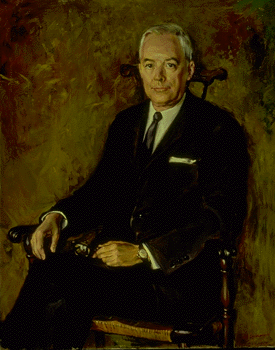 Roger D. Branigin (1902-1975)
Governor of Indiana
January 11, 1965-January 13, 1969
Artist: Helen Briggs Duckwall, American, b. 1912
oil on canvas, 44 x 36 (117.7 x 91.4)
Signed l.r.: H. B. Duckwall
GOVERNOR BRANIGIN'S interest in cultural activities around the state naturally yielded many contacts in the arts. He wisely consulted the proprietor of an Indianapolis art gallery, Carl Lyman, regarding an artist to paint his official portrait. Lyman's suggestion, Helen B. Duckwall, was a fitting, though not an immediately obvious, choice.
Duckwall is well known for her portraits of children and women in pastel, which she executed on commission through Lyman Brothers, Inc., in the late 1930's. Born in Sheridan, Indiana, she attended John Herron School of Art and the Philadelphia School of Fine Arts. Most of her artistic career was spent in Indianapolis, but she currently lives in Clearwater, Florida.
The sittings for the portrait of Branigin were initially held in the Governor's Mansion. The completed portrait had many critics among the governor's friends, and was subsequently destroyed. Duckwall agreed that Branigin's casual, friendly manner was not suited to the confines of the traditional official portrait. Sittings for a second portrait were given by Branigin in the artist's studio, where a warmer light and informal atmosphere suited both the artist and her subject.
Governor Branigin is seated in a Windsor chair with legs crossed and hands resting casually, holding his glasses in his lap. The scrolled crest of the Windsor chair peeks out on either side of Branigin's head, adding a whimsical note and echoing lively facial movement. Bold brushwork and sparkling, rich color produce an animated effect which accents Branigin's pleasant personality. One feels the quality in this portrait of a happy meeting of intellectual and artistic wit.
Source: Peat, Wilbur D. Portraits and Painters of the Governors of Indiana 1800-1978. Revised, edited and with new entries by Diane Gail Lazarus, Indianapolis Museum of Art. Biographies of the governors by Lana Ruegamer, Indiana Historical Society. Indianapolis: Indiana Historical Society and Indianapolis Museum of Art, 1978.