Indiana Governor Portrait Artist: George W. Morrison (1820 - 1893)
George W. Morrison
Artist, Indiana Governors' Portrait Collection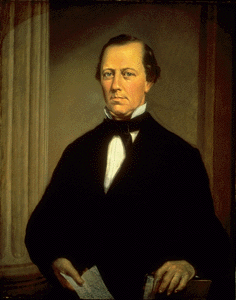 Ashbel Parsons Willard (1820-1860)
Governor of IndianaJanuary 12, 1857-October 4, 1860
Artist: George W. Morrison, American, 1820-1893
oil on canvas, 36 1/4 x 29 1/8 (92.1 x 74.0)
Signed l.l. at base of column: G. W. Morrison Pinxt
THE PORTRAIT of Ashbel P. Willard is the work of George W. Morrison, a fellow citizen of Willard in New Albany. Morrison was the leading portrait painter of the town and its vicinity, and was highly respected as a person and as an artist. he was born in Maryland in 1820, but spent most of his life in New Albany, dying there in 1893. (1)
Governor Baker's introduction to him came through Colonel Benjamin F. Scribner of New Albany, who called the governor's attention to a portrait of Ashbel P. Willard which Morrison had painted in 1857, three years before Willard's death. Scribner wrote: "This picture is still in Mr. Morrison's possession, and is considered a fine likeness by all who knew Willard in his best days It [is] a half length with hands 29 x 36 price one hundred & fifty dolls without the frame." (2)
It was sent to the governor for inspection in January, 1870, and as there was some delay in purchasing it, the New Albany press published some crusading editorials on the artist's behalf. The portrait was eventually acquired by the state and placed in the collection, much to the pleasure of the artist and his New Albany friends.(3)
Like most of Morrison's work, the technique is rather painstaking and tight; the pose is rigid, and the delineation of features is accurate but lacking in strong characterization. Morrison had a way of investing his subject with a mild, genial spirit, and the impression created by his study of Governor Williard is that of a calm, placid personality. Willard stands upright, facing his audience as though ready to address them, and holds a letter and a book in his hands. Behind him is a tan wall with an architectural column at the left. An arc-shaped shadow at the top of the canvas suggests that an arched frame, popular in the nineteenth century, was intended. Against the background, Willard's dark suit stands out in a positive way. This is one of Morrison's best portraits on record, and it adds materially to the collection of pictures in the State House.
(1) See Peat, Pioneer Painters of Indiana,for more detailed biographical information on Morrison, pp. 45, 52-53, 181, 235.
(2) Scribner to Governor Baker, August 3, 1869. Governor Baker's correspondence.
(3) George W. Morrison to Governor Baker, January 7, 1870. Ibid.
Source: Peat, Wilbur D. Portraits and Painters of the Governors of Indiana 1800-1978. Revised, edited and with new entries by Diane Gail Lazarus, Indianapolis Museum of Art. Biographies of the governors by Lana Ruegamer, Indiana Historical Society. Indianapolis: Indiana Historical Society and Indianapolis Museum of Art, 1978.