Indiana Governor Portrait Artist: Frances Norris Streit (b. 1919)
Frances Norris Streit
Artist, Indiana Governors' Portrait Collection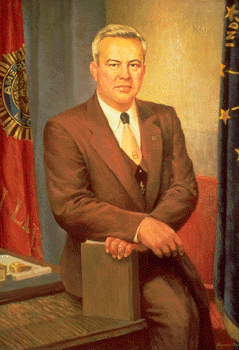 George N. Craig (1909-1992), painted 1954
Governor of Indiana
January 12, 1953-January 14, 1957
Artist: Frances Norris Streit, American, b. 1919
oil on canvas, 44 x 36 1/4 (111.7 x 92.0)
Signed and dated l.r.: Frances Norris Streit 1954
BY VIRTUE of her artistic ability and with the aid of a persistent agent, her mother, Frances Norris Streit was chosen over fifty applicants to paint the official portrait of Governor Craig.
Streit received artistic training at John Herron Art Institute and at the State University of Iowa. During her course of study at Herron, she received several awards, including a bronze medal given by the Beaux Arts Institute of Architectural Design, for mural design. In 1943, Streit moved to New York, where she continued to paint portraits and teach art until 1973, when she retired to concentrate on mural design. She currently lives in Merrick, New York.
Before the work began, Streit had photographs of Governor Craig taken from several angles, and Mrs. Craig selected a pose that best reflected her husband's personality. Although photography is generally intended only as a convenience to reduce the number of sittings, in this case the artist was able to work from a photograph so that a one-hour sitting was all that was required of Craig to bring the portrait to completion. Before the work on the official portrait was begun, Streit painted a portrait of Mrs. Craig which the governor's wife commissioned as an anniversary gift to her husband.
The composition of the Craig portrait is interesting and casual, although credit for its organization belongs primarily to the photographer rather than to the artist. Perched on the edge of his desk, Craig confronts the viewer with a relaxed expression. A repetition of rectangular shapes emphasizes the governor's robust, stocky appearance. Transverse diagonal movements lead the eye from the center of the composition to the flags flanking the figure: the Indiana and American Legion flags are additions to the composition which highlight Craig's political achievements.
Generally speaking, a portrait painted from a photograph rather than from life achieves verisimilitude but lacks a good deal of character. Highly idealized, (1) the Craig portrait is flattering but at the expense of both likeness and vitality. The two-dimensional linear scheme contributes a decorative quality to the painting, but the literal use of color lessens its appeal. The set expression and textureless quality of the work are among the many pitfalls of painting a portrait from a photograph rather than from life.
(1) Both the Indianapolis Times and the Indianapolis News covered the unveiling of the portrait in Craig's office on January 7, 1955. Craig commented that the portrait flattered him. A comparison of a contemporary portrait, that done for the Time magazine cover, confirms this opinion.
Source: Peat, Wilbur D. Portraits and Painters of the Governors of Indiana 1800-1978. Revised, edited and with new entries by Diane Gail Lazarus, Indianapolis Museum of Art. Biographies of the governors by Lana Ruegamer, Indiana Historical Society. Indianapolis: Indiana Historical Society and Indianapolis Museum of Art, 1978.