Indiana Governor Portrait Artist: Edmund Brucker (b. 1912)
Edmund Brucker
Artist, Indiana Governors' Portrait Collection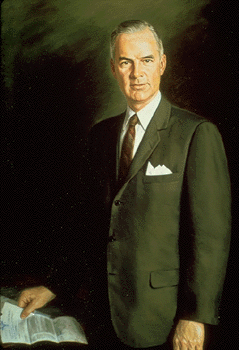 Matthew E. Welsh (1912-1995), painted 1964
Governor of IndianaJanuary 9, 1961-January 11, 1965
Artist: Edmund Brucker, American, b. 1912
oil on canvas, 46 1/8 x 36 (117.2 x 91.4)
Signed and dated l.r.: Edmund Brucker/1964
EDMUND BRUCKER was a natural choice as artist of the official portrait of Matthew E. Welsh. Brucker had already painted a picture of the new governor in 1960 for the cover of Indiana Business and Industry Magazine. (1) The popularity of this portrait resulted in an official commission for Brucker in 1964, the last year of Welsh's term. The sittings were given by Welsh in the artist's studio at the Herron School of Art. Brucker was impressed by Welsh's co-operative manner in posing, and the governor was delighted by the result.
Through careful studio lighting, Brucker has accented his subject's fine, elegant features, and has captured the expression of a confident, perceptive character. The governor stands at his desk, the downward thrust of his gesture creating a strong vertical axis, emphasizing his slender and dignified form. The color scheme, modulated tones of gray-green, is relieved by the warm spot of red in Welsh's tie. The stark patterning of the stationery in the governor's hand, with its prominent logo, draws undue attention in an otherwise textureless rendering.
Active as a portrait painter in Indianapolis since 1938, Edmund Brucker has recorded the likenesses of many prominent people around the state, including Dr. and Mrs. Norris Shreve, Mrs. Otis R. Bowen, and Colonel A. Weir Cook. In 1967, the artist retired from his post of almost thirty years as a professor at the Herron School of Art, and he currently lives in Indianapolis. Brucker represents a dwindling group of Indiana artists whose rigorous artistic training has prepared them for the highly skilled profession of portrait painter.
(1) See cover, Indiana Business and Industry Magazine, March, 1961. The portrait was given to Governor and Mrs. Welsh by the Democratic party, and it now hangs in the Welsh home in Indianapolis.
Source: Peat, Wilbur D. Portraits and Painters of the Governors of Indiana 1800-1978. Revised, edited and with new entries by Diane Gail Lazarus, Indianapolis Museum of Art. Biographies of the governors by Lana Ruegamer, Indiana Historical Society. Indianapolis: Indiana Historical Society and Indianapolis Museum of Art, 1978.