Indiana Governor Portrait Artist: Donald Mattison (1905 - 1975) - Handley
Donald Mattison
Artist, Indiana Governors' Portrait Collection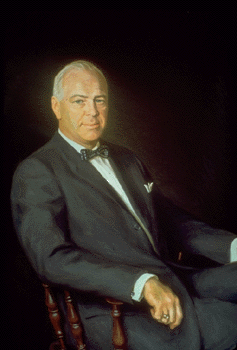 Harold W. Handley (1909-1972), painted 1959
Governor of IndianaJanuary 14, 1957-January 9, 1961
Artist: Donald Mattison, American, 1905-1975
oil on canvas, 46 x 40 (116.8 x 101.6)
Signed and dated l.l.: Donald M. Mattison/1959
PLANS TO commission a portrait of Governor Handley were underway by 1958, when Hubert Hawkins, then the Director of the Indiana Historical Bureau, sought the advice at the John Herron School of Art of Professor Garo Antreasian. (1) One of the artists mentioned by Antreasian, Donald Mattison, Dean of the art school, seemed a natural choice. Mattison was a close friend of Governor Handley, and the governor was reportedly pleased to have the tedium of sitting for his portrait relieved by hearty conversation. (2)
Four two-hour sittings were held in the summer of 1960 in Mattison's studio at the John Herron School of Art, and the artist completed the portrait with the aid of several photographs. Mattison's method of painting a portrait involved the use of mirrors through which he perceived his subject to achieve a once-removed, objective point of view. While the advantages of such a procedure are debatable, Mattison has not sacrificed immediacy and warmth for objectivity in the Handley portrait. A bold, forceful design emphasizes the vigor and enthusiasm which characterized Handley's administration. (3)
Lounging with legs crossed casually, Handley dangles his hand over the arm of a Windsor chair. The governor's attire, a blue suit and blue and white polka-dot tie, was his political trademark. Handley's crossed legs are thrust out of the picture plane toward the viewer with an aggressive effect. The palette is limited to browns and modulated shades of blue, augmenting the severity of the composition.
Donald Mattison studied art under Eugene Savage at Yale and won the coveted Prix de Rome in 1928. Upon his return from Rome in 1931, Mattison taught at Columbia University, the New York School of Design and New York University. In 1933, Mattison became Dean of John Herron School of Art, a position he held until 1970. A skilled administrator, Mattison was a key figure in the expansion of the art school. As an accomplished portrait painter, he received many prestigious commissions. He died in 1975 in Indianapolis.
(1) Hubert Hawkins to Garo Antreasian, September 30, 1958; Garo Antreasian to Hubert Hawkins, October 5, 1958. File related to Governors' Portraits, Indiana Historical Bureau.
(2) Interview by the editor with Mrs. Harold Handley, September, 1977. Information concerning the circumstances of the commission was supplied by Mrs. Handley.
(3) An article in the Indianapolis Times, February 15, 1960, covers the unveiling of the portrait and Handley's comments. According to the article, the governor "hoped future generations would view the portrait in reference to the accomplishments of his administration, rather than of him as an individual." The portrait was also reproduced in the Indianapolis Star, February 16, 1960.
Source: Peat, Wilbur D. Portraits and Painters of the Governors of Indiana 1800-1978. Revised, edited and with new entries by Diane Gail Lazarus, Indianapolis Museum of Art. Biographies of the governors by Lana Ruegamer, Indiana Historical Society. Indianapolis: Indiana Historical Society and Indianapolis Museum of Art, 1978.