Indiana Governor Portrait Artist: Barton Stone Hays (1826 - 1914)
Barton Stone Hays
Artist, Indiana Governors' Portrait Collection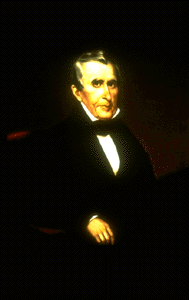 William Henry Harrison (1773-1841)
Territorial Governor of Indiana
May 13, 1800-December 28, 1812
Artist: Barton Stone Hays, American, 1826-1914
oil on canvas, 36 1/4 x 29 1/4 (92.0 x 74.4)
Unsigned
WILLIAM HENRY HARRISON sat for his portrait on several occasions,(1) but evidently no painting made from life could be procured when Governor Baker was assembling the collection. A copy or replica of another portrait had to be made, and Barton S. Hays, a well-known Indianapolis artist during the sixties and seventies, was selected to do the work. He was an Ohioan by birth but had come to Indiana as a youth, settling in Montgomery County and embarking upon his career by making likenesses of relatives and friends in Wingate, Covington, and Attica-frequently for his room and board.
Like most of Indiana's early painters he found portraiture more remunerative than landscape painting, and although he had very little formal training, he developed into a very capable technician. His residence in Indianapolis dated from 1858, at which time he established a Daguerrean firm with a man named Runnion. Within a few years he acquired a good reputation working either from photographs (a very popular method in those days) or from life. It is reported that at the time he was receiving seventy-five dollars for a portrait showing the head and shoulders and one hundred dollars if it included the hands.
When the commissions for the portraits of the governors were being given in 1869, Hays was one of the leading painters in Indianapolis, and it is not surprising to learn that he was asked to make the Harrison portrait. Unfortunately no records have been found describing its evolution. Since Hays had to rely on another picture, he probably selected one which was most convincing in its likeness and characterization, as well as concurrent in date with Harrison's term in office.
A comparative study of the known portraits of Harrison leads to the conclusion that Hays copied an oil portrait which is now in the collection of Bowdoin College Museum of Art. (2) The pose, costume, lighting, and age of the subject in the two paintings are almost identical, as is the size of the canvasses.
Hays succeeded in making a very forceful portrait of Harrison. It is a good likeness and an unusually convincing character study. Harrison's expression is resolute and tense; a look of incisiveness, and not a little shrewdness, appears in the eyes and about the mouth; the forms of the head are strongly and fully modeled. Some of the picture's strength comes from its rich, deep colors; ruddy flesh tones and deep blacks are placed against a greenish-gray background, and red accents appear at the left where light falls on the upholstery of the chair.
For some years there was a copy of the Hays portrait of Harrison in the State House collection made by T.C. Steele in 1916. This was Indiana's centennial year, and Samuel Ralston, then governor, asked Steele to paint the portraits of four governors who belonged to "epochal" periods of the state's history. They were Harrison, first territorial governor, Jennings, first state governor, Morton, the Civil War governor, and Thomas A. Hendricks, an outstanding figure in the period of development following that war.
For the Harrison portrait Steele is reported to have used "prints that had been handed down through past generations as authoritative."(3) The artist's own inscription on the front of the painting contradicts this assertion. It reads: "After the library portrait, T.C. Steele." The paintings of the governors were always referred to as the library portraits because they hung in the State Library when it was in the State House. Even if this inscription were not on the canvas, a comparison of the two would convince one that Steele copied the painting by Hays.
The "epochal" portraits by T.C. Steele are a part of the official collection and have throughout their history been disbursed and hung in historic homes of the state. As a result of the interest in the collection inspired by the 1978 conservation treatment, the four epochal portraits will be hung together in the State House.
(1) Among the artists who painted William Henry Harrison are Thomas Sully, Rembrandt Peale, Henry Inman, J.R. Lambdin, and Bass Otis.
(2) Unknown artist, William Henry Harrison, c. 1850, oil on canvas, 36x26, Gift of Allison Owen of Cincinnati, Bowdoin College Museum of Art, 1870. If the Bowdoin portrait was in Cincinnati until about 1870 as the credit line and accession number would have one believe, then Hays may have painted his copy directly from the original in 1869. It is likely, however, that Hays copied the portrait from a photograph, a method with which he was very familiar, or from one of the several engravings of the Bowdoin portrait. See the notebook on William Henry Harrison portraits compiled by Arthur J. Mitten, Indiana Historical Society.
(3) Indianapolis News, May 20, 1916, p.17, col. 1.
Source: Peat, Wilbur D. Portraits and Painters of the Governors of Indiana 1800-1978. Revised, edited and with new entries by Diane Gail Lazarus, Indianapolis Museum of Art. Biographies of the governors by Lana Ruegamer, Indiana Historical Society. Indianapolis: Indiana Historical Society and Indianapolis Museum of Art, 1978.