Commemorating the 150th Anniversary of the Lincoln Funeral Train Journey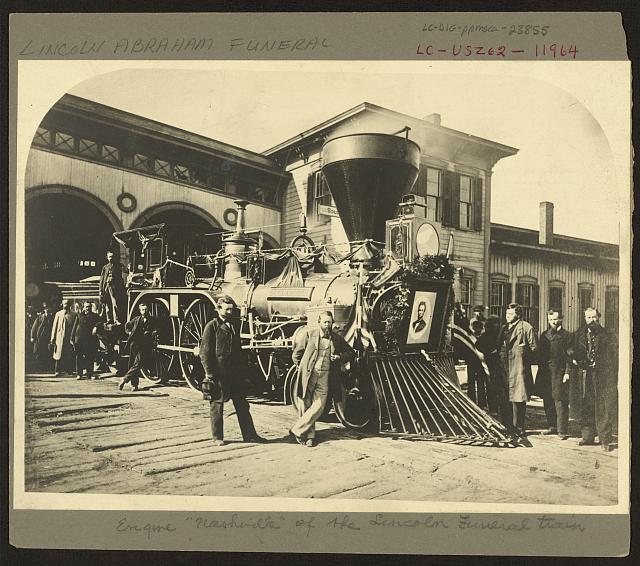 Photograph of Lincoln Funeral Train Engine "Nashville," Library of Congress Prints and Photographs Division Washington, D.C. 20540 USA http://hdl.loc.gov/loc.pnp/pp.print
The Funeral Train
The Indiana Historical Bureau is in the process of promoting the commemoration in Indiana of the 150th anniversary of Lincoln's death and funeral train journey from Washington, D.C. to Springfield, Illinois. There were three official stops in Indiana: Richmond, where Governor Morton and other dignitaries boarded the train; Indianapolis, where the body of Lincoln lay in state in the old State House; and Michigan City, where there was a ceremony prior to moving on to Illinois.
Get Involved!
We have invited people throughout the state to post, including members of the Indiana Civil War Study Group, the Indiana State Library, and other organizations or individuals. The Hoosier State Press Association will invite newspapers throughout the state to add to the blog. Individuals or groups—including County Historians—will be able to submit posts to the blog.
We encourage and welcome blog posts especially demonstrating/documenting reactions from around the state—building from newspapers, letters, etc., from the time. Please contact IHB with questions or to join in this effort, and encourage others to help commemorate this very significant anniversary.
Commemorative Events
Two programs have been scheduled in the Indiana State House in April 2015.
A Batesville Casket Company replica of the Lincoln casket will be on display in the State House sometime between March 30 and April 10; Civil War soldier re-enactors will stand guard.
The major State House event will be on April 30—including a presentation by the staff from the Ulysses S. Grant National Historic Site. Governor Pence is scheduled to speak at the event.
Note: Also at the State House, event participants are encouraged to view the Indiana State Historical Marker commemorating the Indianapolis train stop.
Additional activities include a replica of the train and recreation of the funeral procession via the 2015 Lincoln Funeral Train.