Images from Indiana Statehood Day 2006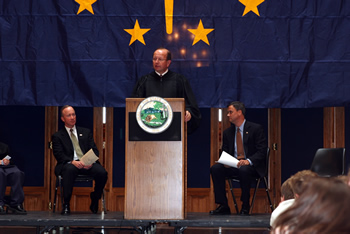 Governor Mitch Daniels (left) and Justice Brent E. Dickson, Indiana Supreme Court (right) addressed the audience of over 700 students and adults attending the ceremony.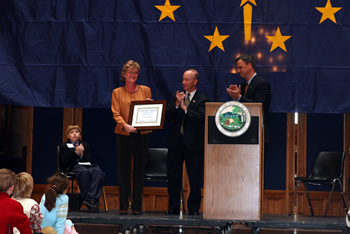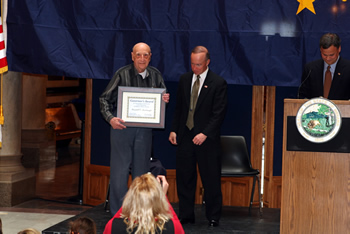 Governor Daniels and Senator James W. Merritt, Jr., Master of Ceremonies presented Governor's Awards for Outstanding Contributions to the Preservation of Indiana's Historic Records, selected by the Indiana State Historic Records Advisory Board, to Linda Talley, Johnson County (left) in the Professional Category, and to Wendell C. Tombaugh, Fulton County in the Volunteer Category.
The first place winner in the "What Indiana Means to Me" contest was Ezra Stone Carotenuto, Indian Trail Elementary, La Porte; he read his essay (left) and received awards from Governor Daniels (right).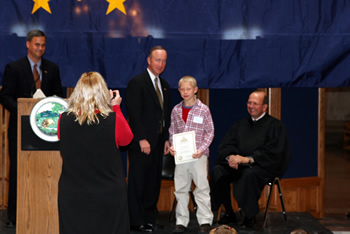 Second and Third place winners in the "What Indiana Means to Me" contest received awards from Governor Daniels. Second place, Rebecca Wooden, Mill Creek East Elementary School, Clayton (left) and Third place, Bryce Zimpelman, Mentone Elementary School, Mentone (right).
[Read all three essays here.]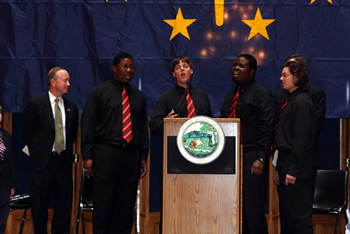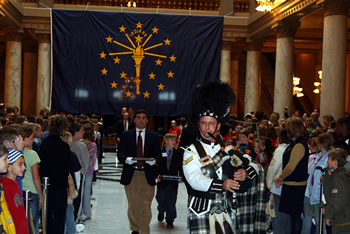 Technical Difficulties, Arsenal Technical High School, Indianapolis, provided music for the ceremony (left). A bagpiper led the speakers in procession to and recess from the stage (right).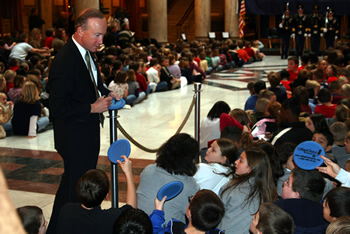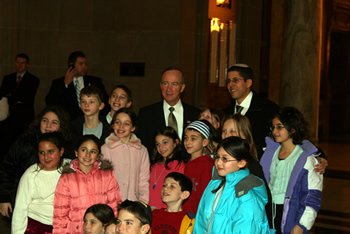 Governor Mitch Daniels signed autographs and posed with student groups before and after the ceremony.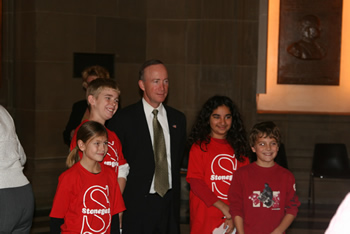 Photographs courtesy of the Office of Governor Mitch Daniels.
Indiana Statehood Day Displays Displays were available from 10:00 a.m. to 1:30 p.m. to provide resources about state government and Indiana history and culture for students and other visitors.
Displays included:
Appellate Courts / Clerk of Courts; Attorney General Steve Carter; Auditor of State Connie Nass; Courts in the Classroom; Governor Mitchell E. Daniels, Jr., INShape Indiana; Indiana Department of Natural Resources, Division of Historic Preservation and Archaeology, Indiana State Museum and Historic Sites; Indiana Historical Bureau; Indiana Historical Society; Indiana State Archives; Indiana State Library; Indiana War Memorials Commission; Lieutenant Governor Becky Skillman's Office and her Family of Business, Indiana Housing and Community Development Authority, Indiana Office of Community and Rural Affairs, Indiana Office of Tourism Development, Indiana State Department of Agriculture, Office of Energy and Defense Development; Secretary of State Todd Rokita; Superintendent of Public Instruction Suellen Reed, Indiana Department of Education; Treasurer of State Tim Berry
Staff of the Indiana State Museum interacted with students who enjoyed the hands-on activities provided for the Statehood Day celebration.
Images courtesy of the Indiana State Museum.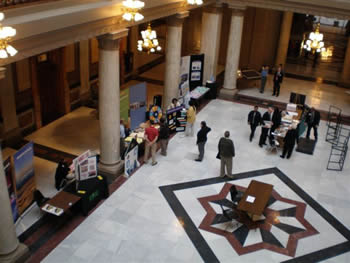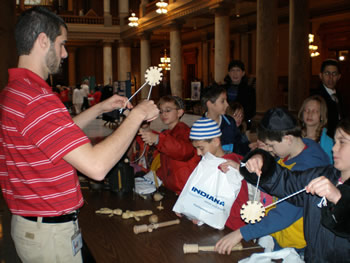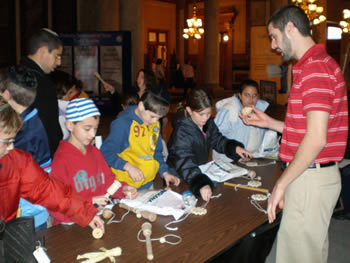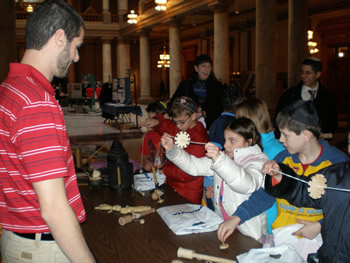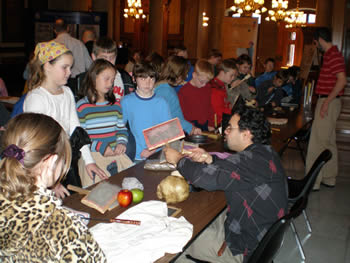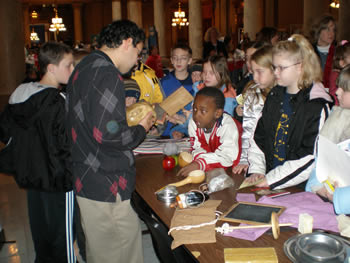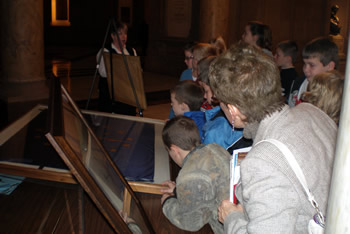 Paula Bongen, of the Indiana Historical Bureau, speaks to a group of students gathered in front of the Historical Bureau's display.
Located on the center of the table in the wooden frame is Indiana's original state banner. The banner is currently in the Historical Bureau's possession and is displayed once a year on Statehood day.
Also displayed is the original banner submitted by Paul Hadley for the competition to select a flag in 1916.
Click here to read more about the history of Indiana's flag.
Students from several schools enjoyed the opportunity to try on judicial robes—and wield a gavel at the Courts in the Classroom display provided by the Indiana Supreme Court.
In the background of several photographs is one of the battle flags for an Indiana regiment in the Civil War displayed by the Indiana War Memorials Commission from its Battle Flag Collection.
Images courtesy of the Indiana Supreme Court.