Lew Wallace
Ray E. Boomhower
Indiana Historical Society
Born on April 10, 1827, in Brookville, Indiana, Lewis Wallace was the second son of David Wallace and Esther French Test Wallace. After Esther died in 1834, Wallace married Zerelda Gray Sanders in 1836. David Wallace served as Indiana's lieutenant governor and then governor, 1831-1840.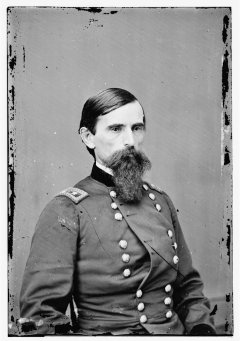 General Lew Wallace, 1827-1905 Source: Library of Congress Prints and Photographs Online Catalog
From an early age, Lew displayed little interest in school and was mostly tutored privately. He preferring hunting and fishing to sitting in a classroom and had dreams of winning glory and fame in battle. His father had graduated from the U.S. Military Academy at West Point. Among Lew's earliest memories was seeing the uniform his father wore while a student at West Point. The "shining bullet-buttons of the coat captured my childish fancy," he wrote many years later in his autobiography.
Wallace became an avid reader and writer, and his interest in the military continued. While working in the county clerk's office in Indianapolis, he joined a local military company known as the Marion Rifles. He later grew tired of studying law in his father's office and volunteered for service in the Mexican War in 1846. He rose to the rank of lieutenant in the 1st Indiana Volunteer Infantry regiment, but saw no battle action.
After his safe return to Indiana, Wallace finished his studies, earned a license to practice law, and was admitted to the bar in 1849. He opened a practice in Covington and later served as prosecuting attorney there. In 1852, he married Susan Elston; they had one child, a son born in 1853. They moved to Crawfordsville, and he won election as a Democrat to the Indiana Senate, serving in the 1857 and 1859 sessions.
Wallace continued his interest in military matters by studying manuals and books on how to lead soldiers. While living in Crawfordsville, he organized a militia unit called the Montgomery Guards. After reading a magazine article on the colorful uniforms and dashing exploits of the Zouaves, a French Algerian army unit, Wallace outfitted his men in the Zouaves' style of uniforms and trained his recruits in their theatrical drill and commando tactics.
With the outbreak of the Civil War in 1861, Wallace was ready to offer his service to the Union cause. In his autobiography, Wallace said he believed that the "conflict would be long and great, but that it would also be crowded with opportunities for distinction not in the least inconsistent with patriotism." He volunteered his services to Indiana Governor Oliver P. Morton, who selected him to serve as the state's adjutant general. Wallace worked to organize Indiana's quota of six regiments for the Union called for by President Abraham Lincoln in April 1861.
After raising more than double the number of troops required by Lincoln in a matter of days, Wallace resigned as adjutant general. Morton placed him in command of the 11th Indiana Volunteer Infantry regiment as its colonel. Before the regiment left Indianapolis, Wallace had the men march to the Indiana State House, where he made them kneel and swear an oath to avenge their comrades, whom Wallace believed had been unjustly accused of cowardice at the Battle of Buena Vista during the Mexican War. Wallace had the regiment take as its battle cry: "Remember Buena Vista!" The influential magazine Harper's Weekly captured the stirring scene in a full-page illustration for its nationwide circulation.
In June 1861, Wallace and the 11th Indiana saw their first action, surprising a small Confederate force at Romney, Virginia, and driving them from the town. The regiment next moved to the Western theater of the war, serving under General Ulysses S. Grant in his successful campaigns to capture Fort Henry and Fort Donelson. In March 1862, at the age of thirty-four, Wallace received promotion to major general, the youngest to hold that rank in the Union Army. Wallace's rise to prominence came to an end at the Battle of Shiloh in early April 1862. During the first day of the battle, Wallace received what were, to him, unclear orders from Grant. Wallace took his command on a confused march that took them out of action. Although Wallace and his men—combined with reinforcements from Major General Don Carlos Buell—joined other Union forces to drive the Confederates back on the battle's second day, Wallace received heavy criticism for his tardiness and eventually lost his command.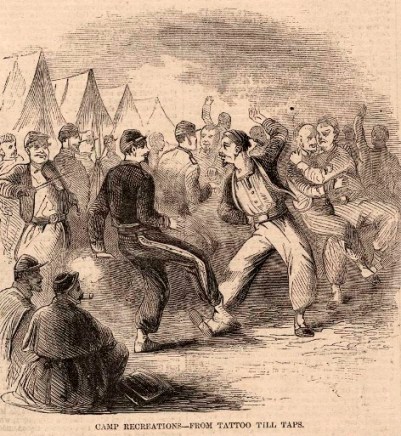 Part of a collage of images titled THE ELEVENTH INDIANA REGIMENT OF ZOUAVES, COLONEL L. WALLACE in Harpers Weekly, July 20, 1861. Source: Indiana Historical Society, P0455.
In late summer 1862, northern military leaders called Wallace back into action to help bolster defenses around Cincinnati, Ohio, to thwart an expected Confederate assault. Wallace won the respect of the city's residents for his inspired leadership, as he organized volunteers to build such strong defenses that the Confederates decided to abandon their plans for taking the city. During the crisis Wallace declared martial law and suppressed publication of two Cincinnati newspapers. Two years later, while commanding at Baltimore, he again suppressed a city newspaper.
With the cloud hanging over him after the Battle of Shiloh, Wallace remained at home in Indiana without military occupation. His only official duties were to preside over the court of inquiry for Major General Buell and, briefly, to command troops during Morgan's Raid in July 1863. The "turning-point," as Wallace termed it, in the rebirth of his military career came on March 12, 1864, when he received orders from the government to take command of the 8th Army Corps, headquartered in Baltimore, Maryland.
Four months later, Wallace led a small force of Union soldiers at Monocacy Junction in a desperate attempt to stop a superior Confederate army from capturing Washington, D.C. Although defeated at what came to be called the Battle of Monocacy, Wallace had delayed the Confederates' march on Washington by a full day, giving Grant enough time to send reinforcements and successfully beat back any attack on the nation's capital.
Following the end of the war in 1865, Wallace served on the military court that tried those involved with Lincoln's assassination, and he was president of the commission that tried and convicted Confederate Captain Henry Wirz, commander of the notorious Andersonville Prison in Georgia. Although Wallace became governor of the New Mexico Territory and U.S. minister to Turkey, he achieved his greatest fame before his death on February 15, 1905, as the best-selling author of the novel Ben-Hur: A Tale of the Christ, published in 1880.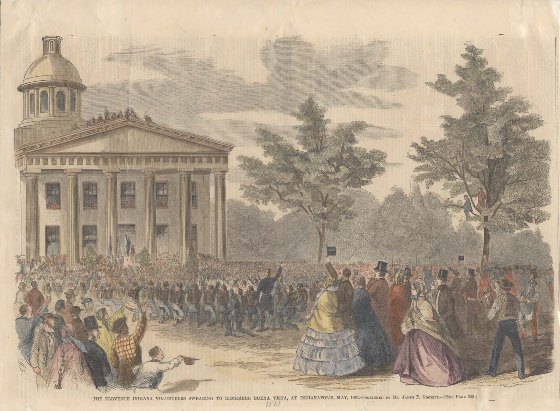 A lithograph published by Harper's Weekly. Eleventh Indiana Volunteers Swearing to Remember Buena Vista at Indianapolis, May 1861. Source: Indiana Historical Society, P0455.
Bibliography:
Boomhower, Ray E. The Sword and the Pen: A Life of Lew Wallace. Indianapolis: Indiana Historical Society Press, 2005.
McKee, Irving. "Ben-Hur" Wallace: The Life of General Lew Wallace. Berkeley: University of California Press, 1947.
Morsberger, Robert E., and Katharine M. Morsberger. Lew Wallace: Militant Romantic. New York: McGraw-Hill, 1980.
Stephens, Gail. Shadow of Shiloh: Major General Lew Wallace in the Civil War. Indianapolis: Indiana Historical Society Press, 2010.
Wallace, Lew. Lew Wallace: An Autobiography. 2 vols. New York: Harper & Brothers, 1906.