Indiana Arsenal
Anita J. Morgan
IUPUI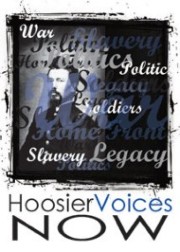 The federal government's call to arms at the start of the Civil War caught state governments unprepared to equip their troops. Most states had meager supplies of arms, gunpowder, and ammunition. Indiana owned only six thousand rusty, mostly broken rifles and muskets that were scattered around the state in the hands of state militia. Desperate for arms, the federal government and the states, including Indiana, competed on world markets to buy guns and equip troops. Indiana also established a state arsenal to repair and refit firearms and to produce gunpowder and ammunition for state and federal purposes.
Indiana Governor Oliver P. Morton appointed Herman Sturm, a civil engineer and chemist by training, to run the state arsenal. In April 1861, Sturm began to teach volunteers from the Eleventh Indiana Infantry the finer points of cartridge construction in an Indianapolis blacksmith shop. Arsenal operations subsequently moved to various locations around central Indianapolis. First, it removed from the blacksmith shop to three temporary buildings north of the State Capitol Building. One building was divided into three rooms, one for guards and one where civilians worked—men and boys completed various tasks in one room while women and girls made cartridges in the other. When cold weather hit Indianapolis, the arsenal moved to a brick building south of the State Capitol Building on Washington Street. After the massive explosion in 1862 at Pittsburgh's federal Allegheny Arsenal that killed seventy-eight workers (mostly women) and injured seventy more, Sturm thought it prudent to move the state arsenal out of the downtown area. The operations moved to some land east of town owned by Calvin Fletcher, Jr., and continued to operate there until 1864 when the federal government, which had purchased the land, set up its own arsenal on the same site. Today, this final stop for the arsenal is the home of Arsenal Technical High School.
Making cartridges was precise and dangerous work. Lead balls and gunpowder were placed in paper tubes and then the ends were tied up. Women were hired for this task because they could be paid lower wages, were considered to be more pliable and obedient workers than men, and were considered to have better dexterity and smaller hands. Although women worked in a different room from men, male supervisors kept watch over them. Cartridge makers received piece wages[1] and therefore worked as quickly as possible to make a decent day's wage. It has been estimated that a skilled worker, at any arsenal, could make 800 cartridges in ten hours.
By September 1861, the arsenal employed about 250 workers, mostly women. Reports of peak employment range up to 700 workers, but no existing payroll records list that number of employees. Sturm had difficulty paying his workers. The federal government purchased what Indiana did not use and was slow to pay its debt. On many occasions Sturm had to borrow money from local individuals (including himself) and from local banks to meet the approximately $6,000 monthly payrolls. At one point no money was available from any source. Workers received "certificates" or scrip instead and, fortunately for the workers, several Indianapolis businesses and banks honored it. Once, when the arsenal had to suspend work due to a lack of raw materials, workers received no pay at all.
About 383 different women worked at the arsenal for the years covered by the existing payroll ledgers. Of that, we know some details about the lives of about 100. Of the ninety-nine for whom their country of birth is known, fifty hailed from the United States, thirty-two from various German states, nine were Irish, three were born in Scotland, two each came from Switzerland and Canada, and one woman was born in England. Only nineteen were born in Indiana. The most frequent age range for women workers was 13-23, but two girls were 10 years old and one woman was 82. Many of the women were the wives or daughters of skilled craftsmen or unskilled laborers, although one physician's daughter worked there as well. In a report to the Indiana General Assembly in 1863, Governor Morton reported that the arsenal gave "profitable occupation" to those "who otherwise would have wanted the means of support. My direction to Colonel Sturm was to give the preference to those whose relatives and supporters were in the field." Census data and other records confirm that members of soldiers' families did work at the arsenal. Many of these family members were girls and young, single women. Others were young mothers whose husbands had volunteered. Sometimes family members worked together at the arsenal.
The public's views about women arsenal workers is not known, but the local Democratic newspaper, the Indianapolis Daily Sentinel, made the workers, who did an extremely dangerous and meticulous job that required a certain amount of concentration on the task at hand, seem more like women at a party. One article referred to the women workers as "damsels" who "laugh, and roll up the bullets, and sing patriotically of the 'red, white, and blue." Another referred to the workers as "blushing young virgins and elderly matrons" who "laugh and chat gaily . . . as they roll up the balls and fix the fatal charge intended to let daylight through some man's heart." The Democratic press was obviously unhappy with the presence of a state arsenal (and the war in general) and chose to take their animosity out on women workers.
Unlike other arsenals around the country, the Allegheny and Washington, D.C., for example, the Indiana State Arsenal did not suffer from any accidental explosions. There is evidence, however, that a controversial spy worked there. Loreta Janeta Velazquez, also known as Laura Williams and Henry Buford, worked at the arsenal for two months under another of her aliases, Lauretta DeCaulp. The Cuban-born woman dressed as a man, became a lieutenant in the Confederate army, courted women, went to prison, and married twice before beginning her work as a Confederate spy and possibly as a Union spy. According to her autobiography, The Woman in Battle, she had two plans for her time in Indianapolis. The first was to gain admittance to Camp Morton to foment a rebellion among the Confederate prisoners. The other was to obtain employment at the arsenal and blow it up. In the end, she did not carry out her plan. She claimed she could not stand to see so many women killed as a result of her scheming. Former Confederate General Jubal Early blasted Velazquez's autobiography as outright fiction when it was released in 1876. Some historians also have questioned the veracity of her stories, but the state arsenal payroll ledgers, a letter she wrote to Governor Morton, a letter from her husband, and information from the district military office illustrate that she was in Indianapolis and that she worked at the state arsenal for two months.
In spite of payroll difficulties, harassment from the Democratic press, and a possible spy in his workforce, Sturm successfully ran the state arsenal and managed its dedicated women and men until it closed in 1864. The arsenal turned a profit for the state and hundreds of civilian employees supported both themselves and the war effort.
Bibliography
Giesberg, Judith. Army at Home: Women and the Civil War on the Northern Home Front. Chapel Hill: University of North Carolina Press, 2009.
Terrell, W.H.H. Indiana in the War of the Rebellion: Report of the Adjutant General. Indianapolis: Indiana Historical Bureau, 1960. Reprint of volume one of the eight-volume original report, 1869.
Thornbrough, Emma Lou. Indiana in the Civil War Era, 1850-1880. Indianapolis: Indiana Historical Bureau and Indiana Historical Society, 1965.
Velazquez, Loreta Janet. The Woman in Battle. Jesse Aleman, editor. Madison: University of Wisconsin Press, 2003. Reprint of Hartford: T. Belknap, 1876.
Wilson, Mark R. The Business of Civil War: Military Mobilization and the State, 1861-1865. Baltimore: The Johns Hopkins University Press, 2006.
---
[1] Piece wages were payments based upon the number of items the worker produced.