Main Content
Article
Indiana Legion
John Michael Foster, Jr.
PhD. Candidate, Purdue University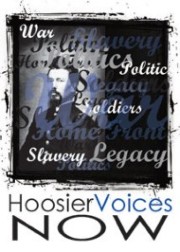 Organized in 1861 by the Indiana General Assembly to serve as Indiana's active state militia, the Indiana Legion played an intricate role in the Civil War. Most notably, units in the southern-tier counties guarded communities along the Ohio River against Confederate raiders and guerrillas operating in Kentucky. But Indiana's wartime militia also participated in patriotic celebrations – such as parades, public drills, and flag presentations – watched for subversive political activities, apprehended Union deserters, and, on occasion, guarded Confederate prisoners-of-war at Camp Morton. On paper, the Legion was a single army corps of two divisions encompassing smaller brigade, regimental, and company organizations. Between 1861 and 1865, some 700 companies were organized for the Legion statewide, with some of the largest and most-complete organizations existing in the southern border counties.
The Legion's primary responsibility was the protection of the state from Confederate invasion. Serving for periods lasting anywhere from a few days to several months, commanders frequently called out Legion units to patrol the north bank of the Ohio River and to assist Unionist citizens and federal military officers in northern Kentucky. In addition to patrol and guard duties, Legion units occasionally participated in expeditions to break up pro-Confederate guerrilla camps in northern Kentucky. During one such expedition in September 1862, a mixed force of Legion infantry and federal cavalry routed a large guerrilla band at Panther Creek, killing, wounding, and capturing over one hundred of the enemy. Participating in a similar expedition two years later, 750 Legionaries from Posey, Vanderburgh, and Warrick counties, working in conjunction with 400 federal troops, crossed into Kentucky with the purpose of "breaking up the guerrilla camps" and "dispersing the rebels" operating in the vicinity of Henderson.
Commanders called upon Legion units in several instances to arrest Union deserters, monitor subversive activities, and maintain civil order. In June 1863, a detachment of Warren County Legion shot a suspected deserter who attempted to flee capture. A few days later, twenty militiamen from Knightstown assisted the sheriff of Rush County in searching for deserters and breaking up "a kind of riot" near Rushville. The following April, a portion of the Franklin County Battalion helped restore order in Brookville after some furloughed solders attempted to sack a newspaper office "which had abused them and their cause." Alarming reports of disloyal activities within Indiana's borders led to several Legion mobilizations in 1864. In August, a regiment from Evansville spent two days guarding a railroad bridge over the White River after reports surfaced that disloyal men intended to burn it. Four months later, a force of Harrison County Legion under General Henry Jordan broke up a large band of suspected deserters, disloyal men, and outlaws allegedly involved in a conspiracy to rob and terrorize loyal citizens in Orange and Crawford Counties. Over the course of the operation, militiamen arrested around 130 persons, including ninety-one civilians.
Legion units mobilized on three separate occasions in response to actual Confederate invasions of Indiana. In the aftermath of Adam Rankin Johnson's raid on Newburgh in July 1862, state authorities formed Legion companies from Lafayette, Terre Haute, and Decatur County into a regiment and sent them into Kentucky to root out guerrillas threatening Indiana. A year later, in June 1863, several Legion units helped smash Captain Thomas H. Hines's company of raiders who had crossed into Indiana and advanced as far as Paoli. The militiamen caught up with Hines's men on the north bank of the Ohio at Blue River Island, and with the assistance of a U.S. Navy gunboat, captured fifty of the raiders. A much greater challenge confronted the Legion three weeks later, when General John Hunt Morgan crossed the Ohio with over 2,000 seasoned raiders. Deficient of cavalry, the Legion could do little to check Morgan's fast-moving horsemen. At Corydon, 450 militiamen and armed citizens inflicted over forty casualties on Morgan's force, but were forced to surrender after a brief engagement. Over the next four days, as they made their way through southeastern Indiana closely pursued by federal cavalry and Legion units that had obtained mounts, the rebels successfully bypassed militia forces at Vernon, Madison, and Sunman's Station, and captured hundreds more at Salem and Versailles without resistance.
Morgan's Raid proved that the Legion was by no means a perfect military organization. Throughout the war, Indiana's militia suffered from a number of problems and deficiencies. Many units were poorly uniformed, if uniformed at all; and a large number of the arms carried by Hoosier militiamen were little more than second-rate imports from Europe. A lieutenant in New Albany's Anderson Rifles complained that his men were equipped with "a miserable and dangerous arm…more dangerous to our own men than the enemy." Low attendance at regular meetings, musters, and drills was also a problem in many Legion units. In April 1864, for instance, only four members of a Vincennes company turned out for inspection, prompting the unit's commander to berate his home guards as "Home Cowards." In some cases, Indiana's militiamen did more to disrupt the public peace than to preserve it. This was certainly true in November 1863, when an unknown assailant shot and wounded a member of the Henry County Legion. In response, the wounded man's comrades marauded through the community, arresting and assaulting citizens without warrant and breaking up a peaceable religious meeting.
Arguably, one of the Legion's most severe deficiencies was also its greatest contribution to the war effort, as Indiana's militia provided thousands of recruits and drafted men for the Union army. In 1861 alone, a single regiment of Floyd County Legion provided fifty-seven commissioned and non-commissioned officers and 700 men for the federal service. The same was true with other Legion units. "The demands of the U.S. for troops has…rendered it very difficult to keep [my regiment] up, for our best men as a general rule volunteer in the service of the National Government," an officer in Montgomery County reported, "and it has so happened that every time when the Legion has been put in good trim the Government has called for more men, and the Legion has furnished the most of them. Some companies are nearly broken up on account of that." Although army enlistments undoubtedly weakened the strength and condition of the Legion, the organization served a higher cause by providing the Union army with a valuable reservoir of rudimentarily-trained officers and men.
The Legion's various duties made it a valuable wartime institution on the Hoosier home front. While their participation in the conflict was minimal in comparison to Indiana troops in the field, Hoosier militiamen nevertheless aided the Union cause significantly by protecting the home front from invasion and internal strife and providing recruits for the federal armies. For these services and many others, they achieved a rightful place in Indiana's rich Civil War history.
Bibliography
Foster, John Michael, Jr. "'For the Good of the Cause and the Protection of the Border': The Service of the Indiana Legion in the Civil War, 1861-1865." Civil War History 55 (March 2009): 31-55.
Horwitz, Lester V. The Longest Raid of the Civil War: Little-Known & Untold Stories of Morgan's Raid into Kentucky, Indiana & Ohio. Cincinnati, Ohio: Farmcourt Publishing, Inc., 1999.
Terrell, W. H. H., Indiana in the War of the Rebellion: Report of the Adjutant General.
Indianapolis: Indiana Historical Bureau, 1960. Reprint of volume one of the eight-volume original report, 1869.
Indiana Legion. Operations of the Indiana Legion. Indianapolis: W.R. Holloway, State Printer, 1865.
Indiana Legion Papers, Indiana State Archives, Archives and Records Administration, Indianapolis.
Indiana National Guard. A History of the National Guard of Indiana. Indianapolis: W.D. Pratt,
1901.
Report of Major-General Love of the Indiana Legion. Indianapolis: Joseph J. Bingham, State
Printer, 1863.