Article
Section
Christmas (Noel) Dagenet - Footnote 2
Christmas (Noel) Dagenet (1) Historical Marker
(61.2004.1)
Footnote 2
Born December 25, 1799 near Terre Haute; baptised by Father Rivet, missionary at Vincennes.

Father Flavian Strange, History of the Catholic Church in Parke County (February 11, 1957), [p. 3]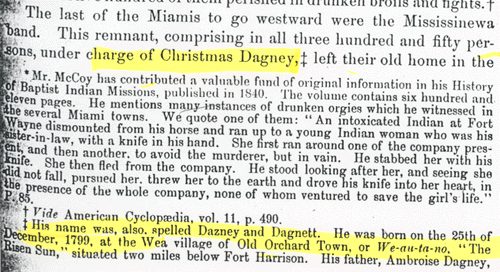 H. W. Beckwith, History of Vigo and Parke Counties (Chicago, 1880), 133. Beckwith (134 note) indicates that he met with and interviewed Dagenet's widow Mary Ann Dagenet Baptiste at Paola, Kansas, in November 1878 when she was 78 years old. Information in Beckwith based on this interview is not always supported by the available primary sources.