Article
Section
The Story of the Painting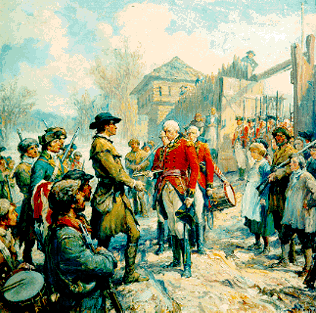 The Fall of Fort Sackville by Frederick C. Yohn
The following article appeared in the Indiana History Bulletin, Volume 1 #2, December 1923. The Youth's Companion was a magazine for young people.
Some months ago the Youth's Companion, in collaboration with the Indiana Historical Commission, chose the Fall of Fort Sackville as perhaps the most important single incident in the history of the state.
The Companion commissioned Frederick C. Yohn, who is a native of Indiana as well as one of our foremost historic painters, to make the picture that should represent the stirring scene. He completed the work most successfully, and the reproduction of his painting in full color appeared upon the cover of the Youth's Companion of October 11. The text that accompanies the picture is this:
By a deed heroic and daring beyond almost any other in our history, Gen. George Rogers Clark captured the British fort at Vincennes and so made American forever all that region now included in the five great states of Ohio, Indiana, Illinois, Michigan and Wisconsin-the Old Northwest.
This cover, the publishers dedicate with the deepest respect to the commonwealth of Indiana. The original painting, which is about three feet square will be appropriately framed and presented to Indiana to be hung permanently in the office of the Indiana Historical Commission.