Main Content
Article
American Indians
Purchases may be made via a visit to our office, by telephone (317-232-2535), fax (317-232-3728), or e-mail (ihb @ history.in.gov). More info on purchasing here.
Exiles and Pioneers: Eastern Indians in the Trans-Mississippi West
John P. Bowes
Exiles and Pioneers analyzes the removal and post-removal histories of Shawnee, Delaware, Wyandot, and Potawatomi Indians. The book argues that the experience of these eastern Indians from the late 1700s to the 1860s was at its core a struggle over geographic and political place within the expanding United States. Even as American expansion limited the geographic scope of Indian lands, the extension of American territories and authority raised important questions about the political status of these Indians as individuals as well as nations within the growing republic. More specifically, the national narrative and even the prominent images of Indian removal cast the eastern Indians as exiles who were constantly pushed beyond the edges of American settlement. This study proposes that ineffective federal policies and ongoing debates within Indian communities also cast some of these eastern Indians as pioneers, unwilling trailblazers in the development of the United States.
paper / 272 pp. / 2007 / 9780521674195 / $29.99
Order no. 1577
The Rise and Fall of North American Indians: From Prehistory through Geronimo
William Brandon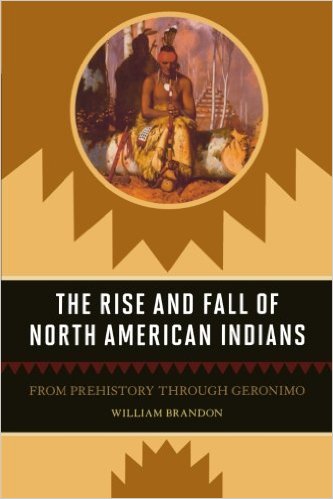 Who were the first settlers in North America? Where did they come from? How did they survive? In this expansive one-volume account of the native peoples of North America, eminent historian William Brandon—who devoted much of his life to examining this subject—presents this revelatory history of the development and culture of the native peoples of North America, from their incipience through the late nineteenth century. Among those from Central America were the art-obsessed Mayans and Olmecs; from North America came the Ojibwa, Powhatan, Cree, Illinois, Apache, Cherokee, Natchez, Sioux, and many others. In The Rise and Fall of North American Indians, Brandon brings this world to life and chronicles ten thousand years of Indian history.
paper / 2013 / 628 pp / ISBN: 978-1570984525 / $24.95
Order No. 1322
Long Journey Home
James W. Brown and Rita T. Kohn, eds.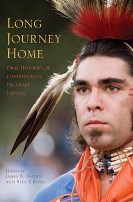 Through first-person accounts, Long Journey Home presents the stories of the Lenape, also known as the Delaware Tribe. These oral histories, which span the post-Civil War era to the present, are gathered into four sections and tell of personal and tribal events as they unfold over time and place. The history of the Lenape is one of forced displacement from their original tribal home along the eastern seaboard into Pennsylvania, continuing with a series of displacements in Ohio, Indiana, Missouri, Kansas, and the Indian Territory. For the group of Lenape interviewed for this book, home is now the area around Bartlesville, Oklahoma. The stories of their long journey have been handed down and remain part of the tribe's collective memory and bring an unforgettable immediacy to the tale of the Lenape. Above all they make clear that the history of seven generations remains very much alive.
cloth / 448 pp. / 2008* / ISBN 978-0-253-34968-2 / $34.95
Order No. 2668
*Limited number of signed copies available
Pen & Ink Witchcraft
Colin G. Calloway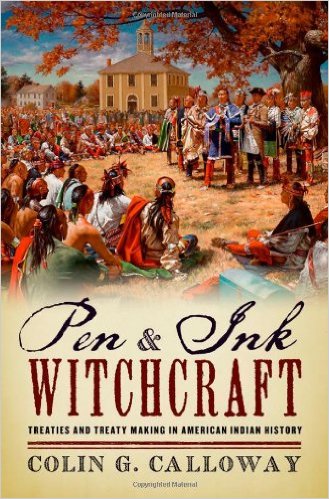 Indian peoples made some four hundred treaties with the United States between the American Revolution and 1871, when Congress prohibited them. They signed nine treaties with the Confederacy, as well as countless others over the centuries with Spain, France, Britain, Mexico, the Republic of Texas, Canada, and even Russia, not to mention individual colonies and states. In retrospect, the treaties seem like well-ordered steps on the path of dispossession and empire. The reality was far more complicated. In Pen and Ink Witchcraft, eminent Native American historian Colin G. Calloway narrates the history of diplomacy between North American Indians and their imperial adversaries, particularly the United States. Treaties were cultural encounters and human dramas, each with its cast of characters and conflicting agendas. Many treaties, he notes, involved not land, but trade, friendship, and the resolution of disputes. Far from all being one-sided, they were negotiated on the Indians' cultural and geographical terrain. When the Mohawks welcomed Dutch traders in the early 1600s, they sealed a treaty of friendship with a wampum belt with parallel rows of purple beads, representing the parties traveling side-by-side, as equals, on the same river. But the American republic increasingly turned treaty-making into a tool of encroachment on Indian territory.
cloth / 377 pp. / 2013 / ISBN 9780199986866 / $34.95
Order no. 3000
Indians and a Changing Frontier: The Art of George Winter
Sarah E. Cook and Rachel B. Ramadhyani, comps.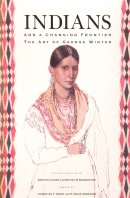 Illustrated volume of watercolors and drawings of Potawatomi Indians in northern Indiana by the artist (b.1809). Also contains two essays on Winter's life and work.
cloth / 269 pp. / 1993 / ISBN 0-87195-097-9 / $24.95
Order No. 2011
Tecumseh and the Quest for Indian Leadership
R. David Edmunds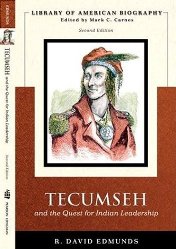 R. David Edmunds' Tecumseh and the Quest for Indian Leadership recounts a history of the United States' westward expansion from the perspective of Tecumseh, the Shawnee leader of the Native American opposition to this movement. The book is divided into nine chapters, the bulk of which are factual narratives of publicly recorded events. Following a chapter of Shawnee tribal biography, seven chapters record Tecumseh's failed attempt at a Native American coalition opposing the United States' usurpation of western lands.

paper / 229 pp. / 2007 / ISBN 0-321-04371-5 / $23.20
Order No. 949

Home Before The Raven Caws: The Mystery of Indiana's Alaskan Totem Pole
Richard Feldman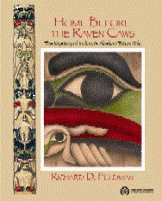 The story of totem poles and the stories they tell and includes the history of a totem pole that stood in the Golden Hills neighborhood of Indianapolis from 1905 until 1939.
paper / 78 pp. / 2003 / ISBN 1-57860-126-6 / $15.95 $9.57
Order No. 2463

The Native Americans
Elizabeth Glenn & Stewart Rafert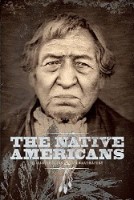 Native American ancestors inhabited the land of Indiana from around 9,500 BC. European contact with Indiana's Miami, Wea, Mascouten, and Shawnee tribes began in 1679. The history of Native Americans in the state is examined in the new Indiana Historical Society Press book The Native Americans.
paper / 130 pp. / 2009 / ISBN 978-0-87195-280-6 / $13.95
Order No. 928

Gods of Prophetstown
Adam Jortner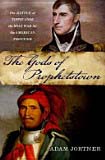 It began with a total eclipse of the sun. In 1806, a Shawnee known as Lalawauthika (roughly meaning "Loudmouth") proclaimed himself Tenskwatawa ("The Open Door"), a spiritual leader in direct contact with the Master of Life. Those who disbelieved him, he warned, "would see darkness come over the sun." Not long after, the sun went black. Ironically, Tenskwatawa's resulting prestige was greatly enhanced by his mortal enemy, governor of the Indiana Territory and future American president William Henry Harrison. "If he truly is a prophet," Harrison publicly taunted, "then let him produce a miracle." And Tenskwatawa did just that. In The Gods of Prophetstown, Adam Jortner provides a gripping account of the conflict between Tenskwatawa and Harrison, who finally collided in 1811 at a place called Tippecanoe. Though largely forgotten today, he writes, it determined the future of westward expansion and influenced the impending War of 1812.
cloth / 310 pp. / 2012 / ISBN 9780199765294 / $27.95
Order no. 3001
An Introduction to the Prehistory of Indiana
James H. Kellar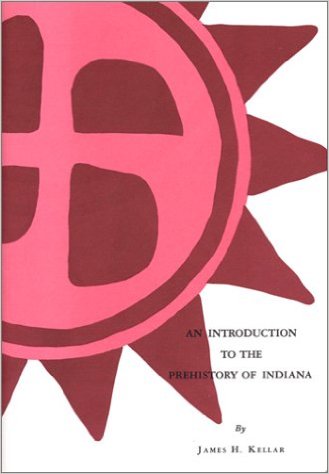 An Introduction to the Prehistory of Indiana summarizes some of the answers to commonly asked questions about Indiana archaeology and prehistory. The impetus for it derives from the almost daily inquiries archaeologists receive from a varied public, for which archaeology and the numerous evidences of Indian occupation in the state have some attraction. Included in this booklet is a brief summary of what is currently known of the prehistoric Indian occupation of Indiana, a brief discussion concerning the history of archaeological research in Indiana, a bibliography for those desiring to pursue some of the topics in greater depth, a statement regarding university degree programs, and a list of prehistoric sites and museums accessible to the public.
paper / 1983 / ISBN: 9780871950444 / $6.95
Order No. 2778
Always a People: Oral Histories of Contemporary Woodland Indians
Rita Kohn and W. Lynwood Montell, eds.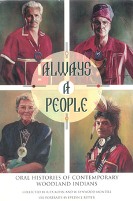 Honors the 20th-century Native American Woodland People and their distinctive, related, cohesive cultures.
cloth / 297 pp. / 1997 / ISBN 0-253-33298-2 / $35.00
Order No. 2201
paper / 297 pp. / 1997 / ISBN 978-0-253-22001-1 / $24.95
Order No. 2689

Native American Place Names of Indiana - Out of Stock
Michael McCafferty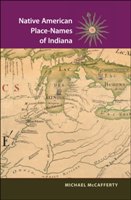 In tracing the roots of Indiana place-names, Michael McCafferty focuses on those created and used by local Native Americans. Drawing from exciting new sources that include three Illinois dictionaries from the eighteenth century, the author documents the language used to describe landmarks essential to fur traders in Les Pays d'en Haut and settlers of the Old Northwest territory. Impeccably researched, this study details who created each name, as well as when, where, how and why they were used. The result is a detailed linguistic history of lakes, streams, cities, counties, and other Indiana names. Each entry includes native language forms, translations, and pronunciation guides, offering fresh historical insight into the state of Indiana.
Cloth / 336 pp. / 2008 / ISBN 978-0-252-03268-4 / $50.00
Order no. 812
Murder in Their Hearts - The Fall Creek Massacre
David Thomas Murpy
In March 1824, a group of angry and intoxicated settlers brutally murdered nine Indians camped along a tributary of Fall Creek. The carnage was recounted in lurid detail in the contemporary press, and the events that followed sparked a national sensation.

paper / 142 pp. / 2010 / ISBN 978-0-87195-285-0 / $13.95
Order No. 935

Bones on the Ground
Elizabeth O'Maley
There are conflicting portraits of what happened to the Indians of the Old Northwest Territory. The answers often depend on who's telling the story, with each participant bending and stretching the truth to fit their own view of themselves and the world. Bones on the Ground, presents biographical sketches and first-person narratives of Native Americans, Indian traders, Colonial and American leaders, and events that shaped the Indians' struggle to maintain possession of their tribal lands in the face of the widespread advancement of white settlement.
paper / 2014 / 146 pp / ISBN: 9780871953629 / $17.95
Order No. 1511


The Miami Indians of Indiana: A Persistent People, 1654-1994
Stewart Rafert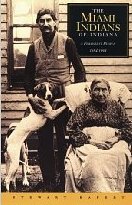 The book explores the history and culture of the Miami Indians, who have fought for many years to gain tribal status from the U.S. government. This volume will appeal to a general audience as well as serious students of tribal history interested in the experience of a North American Indian tribal community over three and a half centuries.
paper / 358 pp. 1996 / ISBN 0-87195-132-0 / $16.95
Order No. 2334

Indiana 1700-1851 Native Americans to the National Road
Indiana Historical Society and the Sanders Group
The four programs on this two-DVD set, each with a teachers' guide, enrich the study of
Indiana history, helping meet Indiana's academic standards for social studies and national curriculum standards:
"Frontier Indiana (1700-1800)" explores the interaction of Native Americans, French, British, and Americans in the area that became Indiana. (30 minutes; made with support from Lincoln Financial Group Foundation)
"Pioneer Indiana (1880-1851)" emphasizes the transformation of Indiana from frontier to settled state, including the Indiana Constitutions of 1816 and 1851 and transportation developments. (45 minutes; funded by Nina Mason Pulliam Charitable Trust)
"Hoosiers All" features four students telling their family stories of musicians, farm life, military heroes, and circus heritage. (32 minutes)
"Who Do You Think You Are?" describes the ethnic groups that settled Indiana, considering where they came from and why, how they adjusted while maintaining their ethnic roots, and what contributions they made. (27 minutes)

DVD / 134 min. / $19.95
Order No. 2902
Children's Books
---
A Kid's Guide to Native American History: More than 50 Activities (A Kid's Guide series)
Yvonne Wakim Dennis and Arlene Hirschfelder
Hands-on activities, games, and crafts introduce children to the diversity of Native American cultures and teach them about the people, experiences, and events that have helped shape America, past and present. Nine geographical areas cover a variety of communities like the Mohawk in the Northeast, Ojibway in the Midwest, Shoshone in the Great Basin, Apache in the Southwest, Yupik in Alaska, and Native Hawaiians, among others. Lives of historical and contemporary notable individuals like Chief Joseph and Maria Tallchief are featured, and the book is packed with a variety of topics like first encounters with Europeans, Indian removal, Mohawk sky walkers, and Navajo code talkers. Readers travel Native America through activities that highlight the arts, games, food, clothing, and unique celebrations, language, and life ways of various nations. Kids can make Haudensaunee corn husk dolls, play Washoe stone jacks, design Inupiat sun goggles, or create a Hawaiian Ma'o-hauhele bag. A time line, glossary, and recommendations for Web sites, books, movies, and museums round out this multicultural guide.
paper / 256 pp / 2009 / ISBN: 978-1556528026 / $16.95
Order No 1167

The Woodland Adventures series
This series is dedicated to all The Woodland People who persevere despite hardships, inhumanity, and hostility. Their spirit, like the Eagle, soars. Their integrity, like the Turtle, persists.
Celebrating Summer
Rita Kohn and Kevin Warren Smith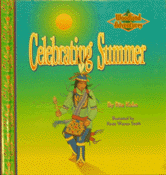 The Woodland Indian traditional powwow is the mechanism used to teach preschool and primary grades to identify and count numbers 1 through 10 in this beautiful picture book.
cloth / 32 pp. / 1995 / ISBN 0-516-05201-2 / $15.00 $9.00
Order No. 2366



The Fall Gathering
Rita Kohn and Winifred Barnum-Newman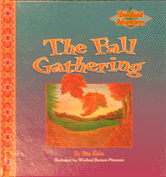 The Woodland Indian tradition of gathering to share in and give thanks for a plentiful harvest is the mechanism used to teach preschool and primary grades the concept of quantity in this beautiful picture book.
cloth / 32 pp. / 1995 / ISBN 0-516-05202-0 / $15.00 $9.00
Order No. 2363



Winter Storytime
Rita Kohn and Dorothy Sullivan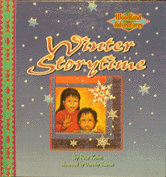 The retelling of the Lenape or Delaware Indian tale of how the first "kokolesh" (rabbit-tail) game was made is the mechanism used to teach preschool and primary grades the concept of sequence in this beautiful picture book.
cloth / 32 pp. / ISBN 0-546-05204-7 / $15.00 $9.00
Order No. 2365



Spring Planting
Rita Kohn and Robin McBride Scott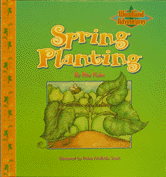 A family of the Miami of Indiana Indians and the traditional custom of planting gourds for the fall gathering give-away is the mechanism used to teach preschool and primary grades number concepts in this beautiful picture book.
cloth / 32 pp. / ISBN 0-516-05203-9 / $15.00 $9.00
Order No. 2364




IHB Publications
Issues of The Indiana Historian - American Indians
paper / ISSN 1071-3301 / $1.00 (1-19 copies); $.30 (20 or more copies)
The Gentle Invasion
Interaction of American Indian tribes with Europeans who claimed the land that is now Indiana. Focuses on French; includes a timeline 1492 to 1763.
12 pp. / 1992
Order No. 7010
The Conflict Continues
British interactions with Native Americans; includes timeline.
12 pp. / revised 1995 (1992)
Order No. 7011
Past Meets Present for Native Americans
Past Meets Present for Native Americans
Focuses on statehood; Indian lands; Trail of Death; 1992 events and population.
12 pp. / 199
Order No. 7012
The Man in the Middle--Chief J. B. Richardville
The Man in the Middle--Chief J. B. Richardville
Principal chief of Miami tribe in mid-1800s; negotiated with U.S. at Forks of the Wabash in 1832. Contains journal of the meetings.
16 pp. / 1993
Order No. 7021
Finding Our Way Home: The Great Lakes Woodland People
Finding Our Way Home: The Great Laks Woodland People
Stories of Woodland People based on a 2001 original play.
16 pp. / 2001
Order No. 7052