Main Content
Article
Expedition Returns - September 23, 1806 through October 30, 1806
September 23, 1806. (St. Louis). Lewis writes Jefferson of the party's safe return and describes the expedition and the potential for fur trade (Jackson, 1: 319-25).
September 23, 1806. Lewis to Jefferson

"It is with pleasure that I anounce to you the safe arrival of myself and party at 12 OClk. today at this place [St. Louis] with our papers and baggage. In obedience to your orders we have penitrated the Continent of North America to the Pacific Ocean, and sufficiently explored the interior of the country to affirm with confidence that we have discovered the most practicable rout which dose exist across the continent by means of the navigable branches of the Missouri and Columbia Rivers. . . .

We view this passage . . . affording immence advantages to the fur trade. . . .

With rispect to the exertions and services rendered by that esteemable man Capt. William Clark in the course of late voyage I cannot say too much; if sir any credit be due for the success of that arduous enterprize in which we have been mutually engaged, he is equally with myself entitled to your consideration and that of our common country. . . .

The rout by which I purpose traveling from hence to Washington is by way of Cahokia, Vincennes, Louisvill Ky. [etc.]" (Jackson, 1: 319-25).
September 23, 1806. (St. Louis). Clark writes his brother Jonathan informing him that the expedition has returned to St. Louis and describing part of the journey (Jackson, 1: 325-30). See Clark's Journal this page.
September 23, 1806. Clark's Journal

"decended to the Mississippi and down that river to St. Louis at which place we arived about 12 oClock. we Suffered the party to fire off their pieces as a Salute to the Town. we were met by all the village and received a harty welcom from it's inhabitants &c. . . . as the post had departed from St. Louis Capt Lewis wrote a note to Mr. Hay in Kahoka to detain the post at that place untill 12 tomorrow" (Moulton, 8: 370-71).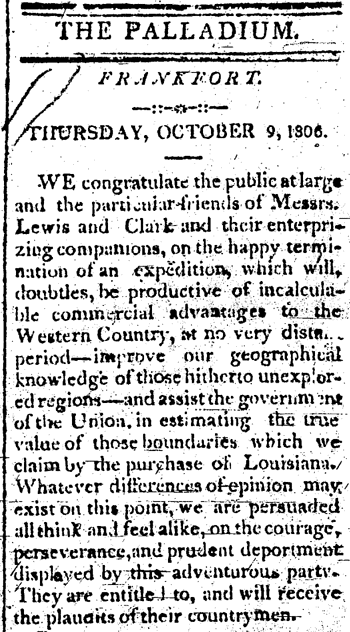 October 9, 1806. This newspaper also included Clark's entire letter of September 23, 1806 to his brother Jonathan summarizing the expedition.
Frankfort (Ky.) The Palladium, October 9, 1806.
September 24, 1806. (St. Louis). Clark's Journal: Clark writes to Harrison and to friends in Kentucky (Moulton, 8: 371-72).
September 24, 1806. (St. Louis). Clark writes to his brother Jonathan giving possible time of arrival in Louisville by way of Vincennes and giving permission for his letter of September 23 to be published in the newspapers (Holmberg, Brother, 115-18). See p. 11, October 9, 1806 item.
October 10, 1806. (St. Louis). Clark returns his commission as lieutenant to Secretary of War Dearborn; it was accepted February 27, 1807 (Jackson, 1: 347).
October 10, 1806. (St. Louis). Members of the Corps of Discovery are officially discharged from service (Holmberg, Brother, 116-17). See Bratton below.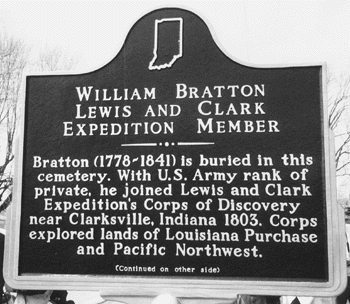 October 10, 1806. William Bratton's discharge

"To all whom it may concern

Know ye, that the bearer hereof Willliam Bratton, private in a corps distined for the discovery of the interior of the continent of North America, having faithfully discharged his duty in said capacity so long as his services have been necessary to complete the objects of a Voyage to the Pacific Ocean, is in virtue of the authority vested in me by the President of the United States hereby discharged from the military service of the said States; and as a tribute justly due the merits of the said Willm. Bratton, I with cheerfullness declare that the ample support which he gave me under every difficulty, the manly firmness which he evinced on every necessary occation, and the fortitude with which he boar the fatugues and painfull sufferings incident to that long Voyage, entitled him to my highest confidence and sincere thanks; while it eminently recommends him to the consideration and rispect of his fellow Citizens.

Meriwether Lewis Capt.

1st U.S. Regt. Infty." (Jackson, 2: 347)
October 26, 1806. Jefferson writes Lewis of his happiness at the safe return of Lewis, Clark, and their men (Jackson, 1: 350-51).
October 30, 1806. (Vincennes). Lewis sends Bills of Exchange to Secretary of War Dearborn for payment. One is for $500 owed to George Wallace, Jr., a merchant in Vincennes and a contractor for army rations (Jackson, 1: 349).