Article
Section
Addressing Diversity
Selma Beck demonstrates proper signaling, 1921. Signaling with two flags in semaphore code was a requirement to be a First Class Scout and one of the original proficiency badges in the 1913 handbook. Flag positions were set to indicate letters of the alphabet.
Juliette Low included as one of the ten Girl Scout Laws: "A Girl Scout Is a Friend to All, and a Sister to every Other Girl Scout no Matter to what Social Class she May Belong" (Hoxie, 5).
Girl Scouting was aimed at all girls, but existing social attitudes shaped the development of scouting among girls of color. It was not until the early 1950s that many campgrounds and troops were integrated.
An experience in Indiana can be documented by items provided to Hoosier Capital Council by descendants of an early African-American Girl Scout leader.
Mary Phinney, first executive director of the Marion County council, visited local schools to explain the Girl Scout program. She spoke at School 17, an African-American school located on the near-west-side of Indianapolis.
Martha Selma Beck, an African-American math teacher at School 17, started Troop 6 on October 4, 1921. Members went on their first hike on October 12, traveling from Riverside Park to Fairview. Fifteen girls passed Tenderfoot tests, conducted by Phinney, in December 1921.
Many of the activities of Troop 6 revolved around the school. Support came from both Principal George L. Hayes, and his wife. The girls provided first aid and assisted with fire drills in the school. During Girl Scout Week in 1921, they participated in city-wide Scout events. To pay for registration fees, activities, and uniforms, girls sold cookies made in their Domestic Science class.
Troop 6 worked on community service projects within the neighborhood and for city-wide agencies. The girls visited the Alpha Home for the Aged Colored at Christmas. They put stickers advertising Red Cross Christmas seals on car windshields at a local filling station. The troop worked at a Health Exposition at the Indiana State Fair Grounds.
The girls went to movies at the Indiana Theater in the Madame Walker Building. In October 1923, Beck took the girls to hear John Philip Sousa and his band. They attended Camp Ada-Boy-Holliday, the council's camping facility at College Avenue and 75th Street.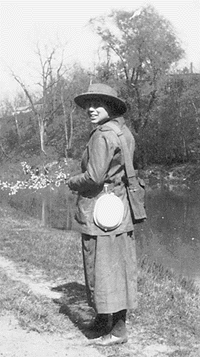 Selma Beck in hiking gear 1921.The troop disbanded when Selma Beck married George Harry in 1923. The original members of Troop 6 met many years later at several reunions. Selma Beck Harry's daughter, granddaughter, and great-granddaughter also became Girl Scouts.
Both photographs: The Family of Selma Beck Harry and Girl Scouts of Hoosier Capital Council.