Article
Section
Behind the scenes - Noraleen Young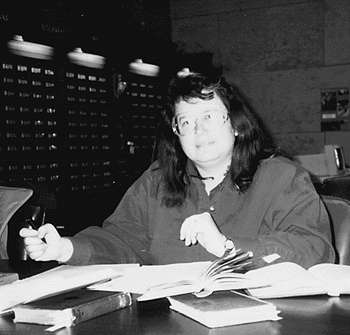 Noraleen A. Young works on Girl Scout history in the Indiana State Library.
I was a Girl Scout and had many great experiences. When I moved to Indianapolis in 1984 for my first job as a special librarian, I wanted to help the organization that had given me so much. I became a Girl Scout leader and let the Hoosier Capital Council know I was interested in helping during the 75th anniversary celebration of Girl Scouting on March 12, 1987.
Working with the local council during the 75th anniversary allowed me to express my love of history and my desire to make history interesting and fun. I worked on a fashion show of old Girl Scout uniforms and researched a script which included historical facts about Girl Scouting in the Indianapolis area.
During this time I went back to school to earn a master's degree in history and decided that the Girl Scouts seemed to be a perfect thesis project for me.
It is important for any organization to know its past. Members need to know how their organization got to the current point in time. How did it get started? How has it changed? What has stayed the same? Were there problems? What forces shaped the organization: the members, the community, society?
Historians have often ignored organizations like Girl Scouts, in part because they are female organizations. Only in recent years have historians generally begun to look at the history of women in American society.
I was also intrigued with the history of children's activities. This area has also been ignored. Children have rarely left the source material for historians to study. Young people rarely leave documents or other records behind. Studying youth organizations like Girl Scouts helps us learn about children's activities.
My thesis research focused on Girl Scouting in the central Indiana area. I used the minutes and publications of the Girl Scouts of Hoosier Capital Council. I looked at city newspapers for stories about the organization. I also read about what children were doing in the past. Because this was an organization about girls and women, I also did research on women and their activities during the time period I studied.
This research helped me to answer questions about how Girl Scouts maintained traditional roles of women in American society but also expanded what was possible for women. Girl Scouts, for example, helped make it acceptable for girls and women to go camping and hiking and do other physical activities.
My history of the council has been used by new staff members to learn about the council and by the board of directors to plan for the future by looking at where the council has been.
As the historian for the Hoosier Capital Council, I have organized the council archives, photograph collections, and collections of handbooks and uniforms. I have also put together circulating kits containing old uniforms and handbooks. Using these resources, I hope that Girl Scouts can get a real sense of what the past was like--and learn the fun and value of history.