Article
Section
Engineers Take Over
The first engineers were military engineers, who designed and built fortifications, planned roads, etc. The U.S. Army Corps of Engineers, established by Congress in 1802, also surveyed and located lines for canals in several states, including Indiana.
Engineers had such responsibilities as confirming the recommended survey for the canal, writing specifications for construction, publishing specifications on which contractors could bid, working with contractors and supervising their work, estimating the cost of construction, approving and making payments to contractors, and keeping the canal in repair.
The journal of Myron S. Webb (November 1838-January 1840) records such functions. It also provides information about life in the Whitewater Valley, one of the more advanced areas of settlement in Indiana.
Source: Shaw, Canals, 200-1.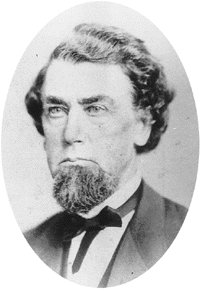 Myron S. Webb
Myron Safford Webb was born in Bennington, Vermont in 1810. He worked on his father's farm until he was eighteen. He taught school for some years and kept books for an iron establishment.
He was an assistant engineer on the Whitewater Canal 1836-1840. He was stationed at the Canal Office in Harrison, Ohio.
In April 1840, Webb returned to Bennington and married. He died in 1871.
Source: Log Book, 21-27.
Myron S. Webb's Journal, June 1839
Saturday 1 Went down to breach1 on 58 afternoon political Meeting G. H. Dunn & Mr Smith Speechified in C. House2
[Sunday] 2 Went to church with M.A.G. Afternoon tete a tete with M. H. [unreadable word] Had a sing with Hale Evening in office.
Mond 3 Gave levels for lock walls on 63. aft. T. P. Bridges
Tuesd 4 Went down to Elizabeth.3 at Mrs Mills. Fanny sick verry sunny Had pleasant visit
Wednes 5 Went to Lawrenceburgh Laid out work for ww C lock This afternoon the water ran into the basin for the first time. Cannons fired.
Thursd 6 To day Gen Longs4 [boat?] floated being the first that has floated on [unreadable word] Came to Harrison Went down to Sarah Godbys in Evenig
Frid 7 Came up to Brook.
Sat 8 In office. In Eving Gen Longs boat arrived amid the firing of Cannon and shouts of the populace
[Sunday] 9 Went to church heard [profesor?] Scott. Went to sabbath school Went to Mr. Goodwins. Went boat ride with 2 L verry pleasant
Mond 10 Boats started down & I went up to take Estimates. Rode up to Judge Mounts. late home
Tuesd 11 Came down to Brook heat quite opprisive
Wednes 12 in office making out Estimates
Thursd 13 Making out Estimates letter from James. & Holman
Friday 14 Do Do5
Saturd 15 Do Do Reid & Kelly6 comenced laying stone in Lock--;
[Sunday] 16 No church nothing [interesting] spent the day in doing no good to myself nor any body else
Mond 17 Went up line. Stoped Jud Mts.7 at Laurel. Went up Wm. [Crk?] Suped at Mr Reeces. Staid over night at Connersville
Tuesd 18 Engaged in office at C getting ready for Est. Walking about town making observations
Wednesd 19 Engaged in office Do--;Rode up line with C. H. W Connersville quite a pretty place
Thursd 20 Est log. Hubble bubble. Settled Sects 9.16.17.56.57.62.73. Paid heavy Est of about $80.0008
Frid 21 Came down line. Stoped at Laurel. Dined at Mr Murrys--; home tired
Saturd 22 Went up to 74 and back again twice Farquhar and Young at Brook [unreadable word] meting in [unreadable word]
[Sunday] 23 At church heard Conwell & Jones Considerable of an excitement--; Saw good many fine ladies
Mond 24 About town and in office. Eving went up to church Saw a lady in a fit
Tuesd 25 Went up to 67 Laid out Bridge Emb.9
Wednesd 26 Went down line. Staid at Sara Godbys Pleasant time Left notice10 for letting tumble & mill race Sect 26.
Thursd 27 Was at Dr C. Afternoon hired a wagon went to Lawrenceburgh Made out contracts for State boats11 Spent eve at N.N. Johns
Frid 28 Laid out work at termination of canal.12 Eve came to Betsy town Staid at Elysian. Was enchanted by the scenery
Saturd 29 Work on 23. Came to Harrison thence to Brook. Introduced to Mifs E. Hoffman pleasant evenings visit among the Exquisites
[Sunday] Went to church heard brother Wiley. T.G.R. here Nothing in particular Eving went to Mr Goodwins. [3 unreadable words]
1 Webb's journal indicates rain the night of May 26, a 90-foot break in section 58 on May 27, and hiring workers to fix the break on May 29.

2 George Dunn and Thomas Smith were opponents in the August 1839 election for U.S. Congress.

3 Elizabethtown, Ohio.

4 General Elisha Long, an acting commissioner of the Indiana Board of Internal Improvement until March 1839, co-owned the Ben Franklin, the first canal boat to arrive at Brookville.

5 Ditto, Ditto.

6 Canal contractors Reed and Kelly on January 23, 1840 were paid $218 for work on section 61 and $9,272.46 for work on section 63.

7 Judge David Mount was a prominent landowner and businessman who lived near Metamora.

8 Money paid to contractors.

9 Embankment.

10 Webb issued a public notice asking for bids to build a tumble and millrace.

11 The state contracted for boats to use in repairing and maintaining the canal.

12 The termination of the canal had been changed in 1839 to the bank of the Ohio River so that shipments could be unloaded directly on to river boats.
Editorial Note: This is a preliminary transcription of one month of Myron S. Webb's journal as he worked on the Whitewater Canal. A photograph of the journal pages on which this material appears is on page 6. The annotations in the notes have been derived from newspapers, official reports, documents, and county histories. The journal and the letter quoted below are located in the Indiana State Archives. Square brackets have been used to indicate additions by TIH editors.
In December 1836, Webb wrote to his parents that he had moved "to take charge of ten miles of the White water canal." He included some interesting comments about his job:
. . . In the first place it is not a very laborious business. In the second place it affords a great opportunity for improving the mind in the arts and sciences. And thirdly it affords a greater pecuniary benifit than I have received before since I have ben in this country. I am not under the necessity of being out in stormy weather and it is frequently the case that I do not have to be occupied out of the Office more than two or three days in a week. And if I go away on a visit or on business for three or fo[u]r days at a time my pay still goes on and no dedu[ction is] made. . . . I have free access to a Library of sc[tear in paper] and considerable time to study and read.

I ha[tear in paper]nced two degrees in the business of Engineering and have for my pay forty-seven dollars p[e]r month whether I have any work to do or not. I have for my companions men of talents and respectibility who are like me, far away from their native homes and kindred friends, But we pass away the time virry pleasantly and I hope profitably.