Main Content
Article
Freeman Field
Indiana Historical Bureau
Historical Marker 36.1977.1 and 2
Jackson County
Visit the Indiana History Blog to learn more about the Freeman Field uprising.
On December 8, 1941, the United States declared war on Japan in response to the Japanese bombing of Pearl Harbor, Hawaii. Manpower and materials were needed quickly.
On May 6, 1942, the War Department announced its intention to build a pilot training school and air field southwest of Seymour in Jackson County. On December 1, 1942, the Seymour air field was activated.
The U.S. Army Corps of Engineers oversaw the construction of the structures, runways, and roads. There were 413 buildings and four 5,500-foot runways located on 2,560 acres. It was a state-of-the-art facility.
In March 1943, the field was officially named the Freeman Army Air Field. Richard S. Freeman was born on June 22, 1907 in Winamac, Pulaski County. He graduated from West Point and was assigned to the Army Air Corps. He earned the Distinguished Flying Cross. He died on February 6, 1941 when his plane crashed in Nevada.
Also in March 1943, the first cadets arrived at this advanced twin-engine training school. Many of the graduates went on to fly bombers, such as B-17s and B-24s. The last graduation was February 1, 1945. A total of 4,245 pilots graduated from the Freeman Field aerial training base. Twenty-four instructors and cadets were killed during training.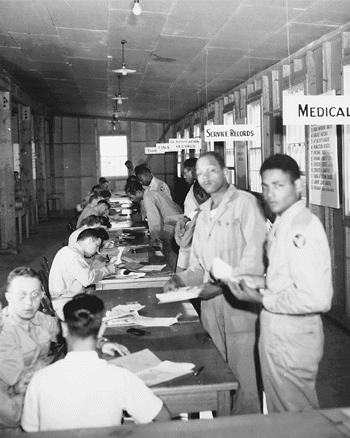 Registration at Freeman Field in 1944. Black aviators, including a group of Tuskegee Airmen, trained at Freeman Field. In April 1945, black officers tried to integrate an officers' club resulting in a major incident. See James C. Warren, The Freeman Field Mutiny (Vacaville, Calif.: The Conyers Publishing Co, 1996) and Ray Boomhower,
" 'Nobody Wanted Us': Black Aviators at Freeman Field," Traces of Indiana and Midwestern History (Summer 1993), pp. 38-45.
Photograph: Indiana State Archives
In January 1946, the facility was declared to be surplus. It was deactivated in November 1948. The War Assets Administration determined the post-war use of the land and structures: 2,241 acres for a municipal airport for Seymour; more than 240 acres for agricultural training in the Seymour Community Schools; and the Seymour Industrial Association received more than sixty acres to develop an industrial park.
Source: Historical marker file 36.1997.1, Indiana Historical Bureau.