Article
Section
Organizing the Convention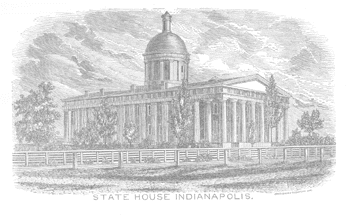 This State Capitol, located on the site of the present capitol building, was completed in 1835. Delegates to the constitutional convention met in the Hall of the House of Representatives in this building from October 7 until December 25, 1850. The opening of the session of the General Assembly forced the convention to move to the Masonic Hall. (
Report of Debates
, 2:1226, 1311, 1312;
Indiana's State House
[Indianapolis, 2000], 6; Kettleborough, 1:lxxxix)
The Indiana Gazetteer (Indianapolis, 1850), opp. title page.
At 10:00 a.m., October 7, 1850, elected delegates of the constitutional convention met in the Hall of the House of Representatives in the State Capitol in Indianapolis. Charles H. Test, Indiana Secretary of State, called the convention to order.
After the delegates swore an oath to uphold the U.S. Constitution and perform their duties to the best of their abilities, Secretary Test announced the convention ready to proceed to the business of organization.
George W. Carr, Lawrence County, was elected president, and William H. English, Scott County (not an elected delegate to the convention), was elected principal secretary of the convention. Three assistant secretaries were also elected by delegates; doorkeepers and sergeants-at-arms were appointed.
A committee was appointed to find larger, more convenient quarters for the convention.
Some discussion occurred concerning the employment of a stenographer to record the debates of the convention. Milton Gregg, Jefferson County, expressed his belief that the entire population of the state would agree with him that "the employment of a Stonographer [sic] here is as a useless expenditure of money and the publication of the debates of the Convention in an embodied form, as the consummation of human folly." Robert Dale Owen, Posey County, replied: "I know of no State in which a Convention has recently been held, which has not provided for the reporting of their debates; and I doubt very much whether any publication will be read with more interest by the people of the State than the reports of our debates. It cannot be denied that they will be eminently useful, as a commentary on the Constitution which we are about to form."
It was decided to record the debates. Later that same day, the convention directed the State Librarian to procure copies of the debates or journals of the constitutional conventions of New York, Kentucky, and Wisconsin.
By October 14, a plan had been adopted creating twenty-two standing committees to consider and draft sections of the new Constitution, and members had been assigned. Also on that day, rules of order for the government of the convention proceedings were approved.
The real business of the convention began in earnest.
Sources: Journal of Convention, 3-4, 21-25, 52-58; Report of Debates, 1:30, 31-32, 41, 59-62.