Article
Section
Indiana in the Spanish-American War - Bibliography
A Note Regarding Resources: Items are listed on this page that enhance work with the topic discussed. Some older items, especially, may include dated practices and ideas that are no longer generally accepted. Resources reflecting current practices are noted whenever possible.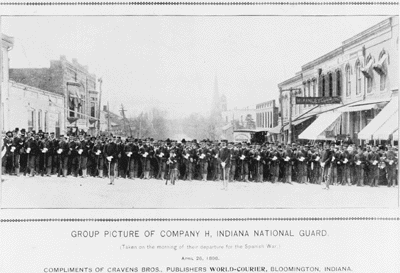 Company H, First Regiment, Indiana National Guard, became Company H of the 159th Regiment Indiana Volunteer Infantry when it was mustered into U.S. service May 12, 1898 (History of National Guard, 329, 339-40). Image appears on back cover of issue.
Image: Indiana State Archives
Alger, R. A. The Spanish-American War. New York: Harper & Brothers Publishers, 1901.
Official point of view by the secretary of war.
Carruth, Gorton. The Encyclopedia of American Facts and Dates. New York: Harper Collins Publishers, 1993.
Comprehensive, easy-to-read timeline of American history.
Cosmas, Graham A. An Army for Empire: The United States Army in the Spanish-American War. Columbia: University of Missouri Press, 1971.
Very useful on all aspects of the war.
Dock, Lavinia L., Sarah Elizabeth Pickett, Clara D. Noyes, Fannie F. Clement, Elizabeth G. Fox, Anna R. Van Meter. History of American Red Cross Nursing. New York: The Macmillan Company, 1922.
Early history of American Red Cross Nursing Service using many documentary sources.
Gatewood, Willard G., Jr. "Indiana Negroes and the Spanish American War." Indiana Magazine of History, 69 (1973): 115-39.
Detailed examination of the topic.
Grun, Bernard. The Timetables of History. New York: Simon and Schuster, 1991.
Comprehensive, easy-to-read timeline of world history.
A History of the National Guard of Indiana. Indianapolis: W. D. Pratt, 1901.
Useful introduction; helpful in tracking unit information.
Kalisch, Philip A., and Beatrice J. Kalisch. The Advance of American Nursing. Boston: Little, Brown and Company, 1978.
Textbook for nursing profession; provides comprehensive survey of topic.
Morris, Richard B., and Jeffrey B. Morris, eds. Encyclopedia of American History. New York: Harper & Row, Publishers, 1976.
Useful entries on the war and related topics.
Phillips, Clifton J. Indiana in Transition: The Emergence of an Industrial Commonwealth, 1880-1920. Indianapolis: Indiana Historical Bureau and Indiana Historical Society, 1968.
Chapter that includes war very useful for context.
Record of Indiana Volunteers in the Spanish-American War, 1898-1899. Indianapolis: Sixty-first General Assembly of Indiana, 1900.
Basic resource; contains Indiana government actions and names and service of all volunteers.
Watt, William J., and James R. H. Spears, eds. Indiana's Citizen Soldiers: The Militia and National Guard in Indiana History. Indianapolis: Indiana State Armory Board, 1980.
Useful background; good chapter on Spanish-American War. Additional resources
Foner, Eric, and John A. Garraty, eds. The Reader's Companion to American History. Boston: Houghton Mifflin Company, 1991.
Useful entries on the war and related topics.
Gatewood, Willard B., Jr. "Smoked Yankees" and the Struggle for Empire: Letters from Negro Soldiers, 1898-1902. Urbana: University of Illinois Press, 1971.
Includes some items from Indiana newspapers.
Internet resources:
Many articles available.
Lovett, Christopher C., Karen Manners Smith et al. "Remembering the Maine: Teaching about the Spanish-American War Era after 100 Years." Social Studies, 89: 3 (May/June 1998), starting 123.
Many references and resources listed.
"The War of 1898." OAH Magazine of History, 12: 3 (Spring 1998).
Useful background essays and lesson plans. Suggested student resources
Bachrach, Deborah. The Spanish-American War. San Diego: Lucent Books, 1991.
Good resource with interesting photographs; for intermediate readers.
Carter, Alden R. The Spanish-American War. New York: Franklin Watts, 1992.
Easy-to-read work chronicles the war with text, photographs, maps, and political cartoons. Part of A First Book series.
Kent, Zachary. The Story of the Rough Riders. Chicago: Childrens Press, 1991.
Describes how the Rough Riders were formed at the beginning of the Spanish-American War. Part of Cornerstones of Freedom series.
Levinson, Nancy Smiler. Turn of the Century: Our Nation One Hundred Years Ago. New York: Lodestar Books, 1994.
Good source for general historical background; includes a chapter on the Spanish-American War.
Smith, Carter, ed. Presidents of a World Power: A Sourcebook on the U.S. Presidency. Brookfield, Conn.: The Millbrook Press, 1993.
Historical context for the Spanish-American War; American Albums from the Collections of the Library of Congress series.
This Fabulous Century: Prelude, 1870-1900. New York: Time-Life Books, 1970.
Limited text; wonderful photographs provide some understandings of life in the period covered. Volume 8 of series.
Special Thanks to:
Carole Allen, Indiana Historical Bureau.
Maurice Holmes, Shelbyville.
Mary Johnson and Dellie Craig, Crawfordsville District Public Library.