Indiana Violent Death Reporting System (INVDRS)
*NOW LIVE* 2022 Coroner Grant Opportunity
Application is found on Page 10 of the announcement (download pdf then select application embedment)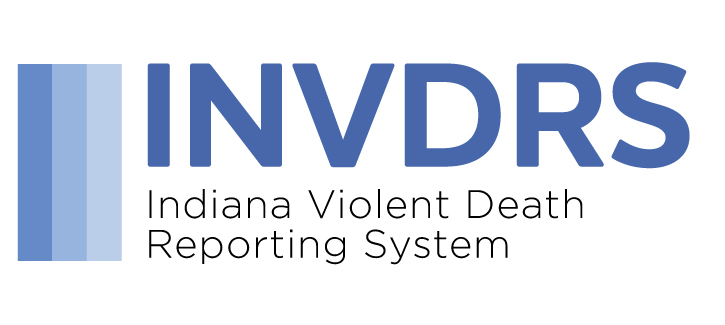 Indiana is one of 40 states to receive funding from the Centers for Disease Control and Prevention (CDC) to collect violent death data using the National Violent Death Reporting System. The purpose of the funding is to improve the planning, implementation, and evaluation of violence prevention programs. The grant will be administered by the Indiana Department of Health's Division of Trauma and Injury Prevention.
The Indiana Violent Death Reporting System (INVDRS) will gather vital records data, law enforcement records, and coroner reports into one central web-based registry in order to better understand the circumstances of violent deaths, including homicides, suicides, undetermined intent deaths, and unintentional firearm deaths. The CDC provides funding to utilize the software and to implement an abstraction process (people, technical support, etc.) to combine the data. The coding manual used by the record abstractors can be found here. The coding manual includes information on what data elements are collected and the definition of the element.
Handouts
Infographics / Reports
Current INVDRS Data Providers
The Indiana Violent Death Reporting System relies on the ongoing support of Indiana Coroners and Law Enforcement agencies. INVDRS combines data from the death certificate, police reports, and coroner reports to develop a comprehensive picture of the circumstances surrounding violent deaths in Indiana. The INVDRS staff would like to recognize those agencies that are fully supporting INVDRS by submitting their reports for inclusion in the database.
INVDRS Advisory Board Meeting Schedule
To facilitate the development of the INVDRS, an advisory board has been established. The board will meet quarterly and will focus on the technical aspects of developing and implementing the reporting system. The board is made up of individuals/organizations with experience in conducting injury reporting systems and persons representing organizations that can provide the needed data (coroners, law enforcement, vital records, and crime laboratories). Please contact Morgan Sprecher (msprecher@isdh.in.gov) if you or someone from your agency is willing to serve on the advisory board.
Upcoming 2022 Advisory Board Meetings
| | | |
| --- | --- | --- |
| Date | Location | Time |
| May 6 | Starleaf - meeting code in listserv email | 10 - 11 am EST |
| August 5 | Starleaf - meeting code in listserv email | 10 - 11 am EST |
| November 4 | Starleaf - meeting code in listserv email | 10 - 11 am EST |
Previous Advisory Board Meeting
Date
Meeting Agenda
Meeting Notes
Additional Material
2/4/21
11/19/21
9/17/21
7/16/21
5/14/21
3/19/21
1/15/21
CANCELLED
11/20/20
9/18/20
7/17/20
5/15/20
CANCELLED
3/20/20
1/17/20
11/15/19
9/20/19
7/19/19

Cancelled

5/17/19
3/15/19
1/18/19
11/16/18
Cancelled

7/21/18

3/16/18

Cancelled
9/15/17

Coroner/LE Handout, see above

3/17/17

Coroner/LE Handout, see above

11/18/16
9/16/16

7/15/16

*Joint meeting with IPAC*

3/18/16
12/15/15
6/23/15
3/24/15
12/9/14
9/30/14
Contact Information:
Morgan Sprecher, MPH
INVDRS Epidemiologist, Division of Trauma and Injury Prevention
MSprecher@isdh.IN.gov
317-233-9825
Page last updated 2/10/2022