Regional Trauma System Development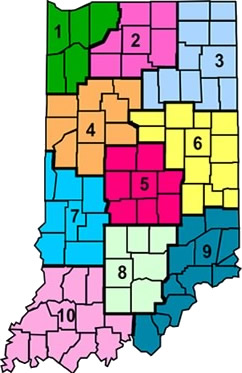 Regional trauma system development helps drive the statewide system development. Indiana's regions are created by dividing the state into public health preparedness districts. There are ten districts in Indiana.
Statewide Trauma System Road Map
District 7
Frank Safrit
Terre Haute Regional
frank.safrit@hcahealthcare.com
Jackie Martin
Union Hospital - Terre Haute
jmartin@uhhg.org
District 8
Lori Gill
IU Health Bloomington
Lgill3@iuhealth.org
District 9
Point of Contact: N/A
District 10
Betsy Tenbarge
Ascension St. Vincent Evansville
elizabeth.tenbarge@ascension.org
Dara Dilger
Deaconess Hospital
dara.dilger@deaconess.com
Serving a population of approximately 400,000 people in 12 counties, the District 10 Trauma Regional Advisory Council D10TRAC has evolved as a result of the local interests and grassroots efforts of approximately 90 EMS units, 500 EMS providers and the 10 hospitals that represent southeast Indiana.