Robert D Orr
Governor of Indiana
January 13, 1981-January 9, 1989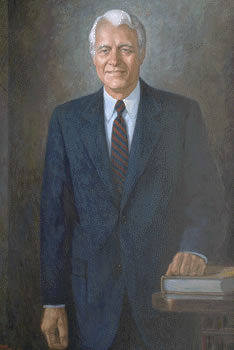 Artist: Lucian Lupinski, American, b. 1918
oil on canvas, 37 x 51 (94.0 x 129.5)
Robert Orr, Indiana's 45th governor, made education and economic development the cornerstones of his administration. During his tenure as governor, Indiana enjoyed its strongest economic recovery in 40 years. In addition, Governor Orr initiated many education reforms, including "Primetime" - a state-funded program which reduces class sizes in the early grades-mandatory competency testing and remediation, programs for gifted and talented students, and an incentive pay program for teachers.
A 1940 graduate of Yale University, the governor attended Harvard Graduate School of Business before the outbreak of World War II. He served in the U.S. Army in the Pacific theater of operations, rising from private to major. He received the Legion of Merit for his outstanding service.
The sixth-generation Hoosier is a native of Evansville, where he was a business, civic, and political leader before being elected to the state senate in 1968. In 1972, Robert Orr was elected lieutenant governor and served two terms. In 1980, he was elected governor by a record margin. He was reelected in 1984. A businessman and industrialist most of his life, Governor Orr was a former chairman of Indiana Industries Inc., of Evansville, manufacturer of recreational products.
He holds honorary doctorates from Indiana University, University of Evansville, University of Southern Indiana, Hanover College, Butler University, Indiana State University, and Vincennes University.
He was president of the Council of State Governments. The governor was a member of the steering committee of the Education Commission of the States, and was asked to serve on U.S. Department of Education Secretary William Bennett's Study Group on Elementary Education. He was the only governor on the committee.
Orr also served as chairman of the National Governors Association Transportation and Commerce Committee. By appointment of President Reagan, he was a member of the Amtrak board of directors, representing all governors. He served as ambassador to Singapore from 1989 to 1992. Orr was married to the former Joanne (Josie) Wallace. They have three children. Governor Orr and Mrs. Josie Orr divorced in 2000. On January 20, 2001, Governor Orr married Mary K. Davis.
Governor Orr died on March 10, 2004 in Indianapolis. On March 16, his flag-draped casket lay in state in the Indiana State House rotunda. Burial was at Crown Hill Cemetery in Indianapolis.
Source: Indiana Historical Bureau