James Douglas Williams
Governor of Indiana
January 8, 1877-November 20, 1880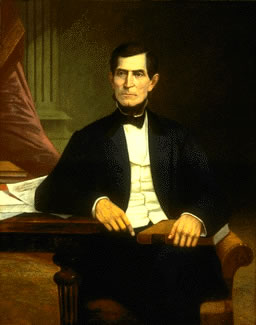 Artist: Henry M. Colcord, American, 1828(?)-1906(?)
oil on canvas, 50 x 40 (127.0 x 101.1)
Unsigned
JAMES WILLIAMS moved to Knox County, Indiana, from Ohio as a child. He was educated in the common schools, and he farmed all his life. His nickname "Blue Jeans" reflected his customary apparel in suits of that material. The oldest of six children, at age twenty he took over the care of his brothers and sisters when his father died.
Williams' political career as a Democrat began as justice of the peace in Knox County and continued with many terms in the Indiana legislature in both houses in the thirty-one years between 1843 and 1874. He was elected to Congress in 1874 and to the governorship in 1876, defeating Benjamin Harrison by five thousand votes in the latter race. The extensive railroad strike of 1877 created problems for Williams, who sympathized with the strikers. He was an especially capable legislative leader and was identified with many important state laws.
"Blue Jeans" Williams was a large, rugged, rough-hewn man, six feet four inches tall, with a lot of black hair. Conrad Baker described him as "a man of strong, generous, emotional nature." He died in office in 1880.
Source: Peat, Wilbur D. Portraits and Painters of the Governors of Indiana 1800-1978. Revised, edited and with new entries by Diane Gail Lazarus, Indianapolis Museum of Art. Biographies of the governors by Lana Ruegamer, Indiana Historical Society. Indianapolis: Indiana Historical Society and Indianapolis Museum of Art, 1978.
Source: Indiana Historical Bureau