OECOSL Request for Funding 20-002: Early Childhood Capacity Building Grant Program (Round 4)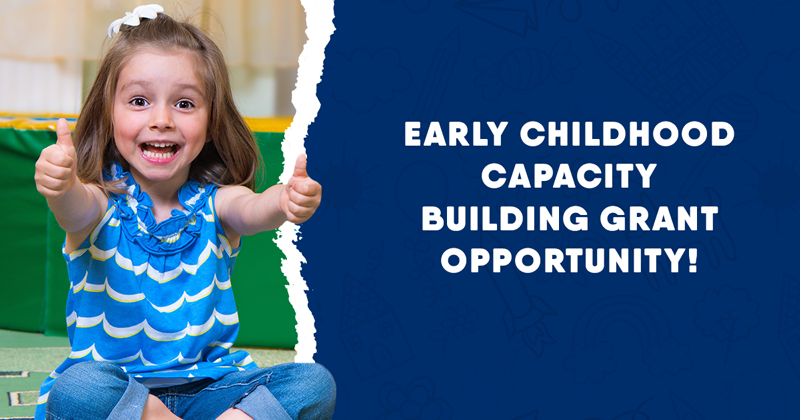 OECOSL is pleased to announce the fourth round of the Early Childhood Capacity Building grant opportunity based on the requirements of House Enrolled Act 1628 of the 2019 session of the Indiana General Assembly. OECOSL Request for Funding 20-002 seeks applications from 1) Indiana county/community coalitions containing early childhood education providers or 2) individual Indiana early childhood education providers interested in building their capacity to provide high quality early childhood education to eligible four-year-old children through either achieving a PTQ Level 3 or Level 4 rating and/or expanding the number of available seats for eligible four-year-old children. All applicants whether expanding seats or increasing their PTQ Level must have a plan to reach a PTQ Level 3 or 4 if they have not already attained this level.
For this round of the Early Childhood Capacity Building Grant Program, only county/community coalitions and/or individual early childhood education providers from the following Indiana counties are eligible to apply:
| | | | |
| --- | --- | --- | --- |
| Adams | Benton | Blackford | Boone |
| Brown | Cass | Clinton | Crawford |
| Dearborn | Decatur | Fountain | Franklin |
| Fulton | Greene | Huntington | Jasper |
| Jay | LaGrange | Lawrence | Martin |
| Miami | Montgomery | Morgan | Newton |
| Noble | Ohio | Orange | Parke |
| Perry | Pike | Pulaski | Putnam |
| Randolph | Rush | Scott | Spencer |
| Switzerland | Tipton | Union | Vermillion |
| Washington | Wells | Whitley | |
OECOSL RFF 20-002 contains eligibility criteria (including the list of eligible counties), eligible project descriptions and instructions for how to apply. Applicants should review all RFF documents below before applying and ensure their project meets eligibility criteria and addresses all required elements.

The application deadline for OECOSL RFF 20-002 is Friday, November 8, 2019, at 5 p.m. EST. Applications will be submitted through the Early Learning Indiana online platform.
RFF files for applicants:
Grant application webinar
An optional informational webinar was held at 8:45 a.m. on Wednesday, October 2, 2019, where OECOSL provided information about the RFF, including tips and instructions on how to properly submit an application and answer any questions.
A recording of the webinar may be viewed here and a copy of the presentation from the webinar may be viewed here for those who could not attend.
In Person Information Sessions
The state will be holding in-person information sessions across the state to support applicants in writing high-quality applications that meet all grant requirements at the following times and locations:
Tuesday, October 15, 6 p.m. – 7 p.m. EST, Huntington Co. Learning Center 2201 N. Jefferson St. Huntington, IN 46750
Wednesday, October 16, 6 p.m. – 7 p.m. EST, Putnam Co. Hospital 3rd floor classrooms 2 and 3, 1543 S Bloomington St. Greencastle, IN 46135
Thursday, October 17, 6 p.m. – 7 p.m. EST, Community Foundation of Orange County, 1075 N. Sandy Hook Road Ste. 2 Paoli, IN 47454
All providers interested in applying to OECOSL RFF 20-002 are welcome and encouraged to attend these in-person information sessions. There will only be 20 spaces available to attend each information session. Prospective attendees must RSVP beforehand to reserve their seat by emailing Beth Barrett at OECOSLgrant@fssa.in.gov. Seats will be given in the order in which they are requested.
If your organization cannot attend any in-person information session, a representative from OECOSL may be available for a 15-minute one-on-one discussion over the phone or through WebEx to offer additional assistance or answer questions. All requests or questions regarding assistance can be submitted to Beth Barrett at OECOSLgrant@fssa.in.gov.