The U. S. Geological Survey (USGS) and the Indiana Department of Natural Resources (IDNR) entered into a cooperative agreement in 1965 to produce the original Drainage Areas of Indiana Streams - 1975, which is out of print. With the approval of the USGS, the original publication was scanned and added to the IDNR - Division of Water Web Site in March 2002. The document is now available in Portable Document Format (PDF) for viewing or printing.
What are drainage areas used for?
Drainage area determinations are required for engineering studies related to streams. The drainage area is a parameter used in the analysis of streamflow characteristics, the design of hydraulic structures, and water availability evaluations.
Are maps of the drainage area delineations available?
The work maps used to determine each of the drainage areas have been scanned and set up as an ArcGIS mapping service. These maps include notes documenting the assumptions inherent in the drainage area determinations.
Link to a full description of the maps
Which Indiana drainage areas were determined?
Drainage areas for all Indiana streams having a drainage area of at least five square miles were determined. Drainage areas at many other points, including entry and exit points for larger streams crossing the Indiana border, were also determined. Table 1 lists over 7,500 drainage area determination points. Refer to the Abstract / Introduction for an explanation of Table 1.
Are the drainage areas listed by County?
Table 2 merely lists the page number for each county drainage basin listings. In addition to Indiana counties, page numbers for bordering counties located in Ohio, Illinois, and Michigan are also listed in Table 2. Table 3 presents drainage area data for each Indiana county referenced to a county map. Refer to the Abstract / Introduction for an explanation of Table 3. Table 4 lists drainage area data for streams draining into or out of Indiana, and into or from Ohio, Illinois, and Michigan.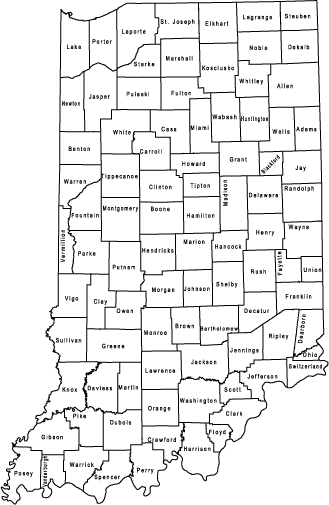 Abstract, Introduction, Table 1,2 & 5
Table 3 (Drainage area data & county map)
Conversion factors?
Table 5 gives miles to kilometers conversion factors.
Counties
Click here to view the entire document in Acrobat format (file size 17.0mb)