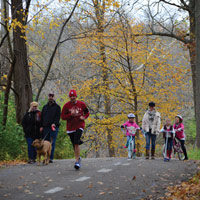 Indiana has more than 4,200 miles of public trails. That number continues to grow as more people discover the many benefits of public trails. Some of those trails are single-use, and many are multi-use. Multi-use trails can be enjoyed by a variety of different user types. Public trails in Indiana range from wide, flat, paved trails to winding, narrow natural-surface single-track trails. No matter what type of trail you are on, you are likely to encounter others. All trail users deserve to have a safe and enjoyable experience, regardless of age, ability or activity. Help them do so by doing the following:
General Trail Etiquette
Know & Follow the Rules
Stay on the marked trail and do no trespass.
Follow all trail signs.
Do not use trails that are closed or do not permit your user type.
Be Courteous
Travel in single file or take up no more than half the trail.
Step off the trail when taking a break.
Travel at a safe and controlled speed.
Be mindful of space and noise level.
Keep children close by and teach them to be courteous trail users.
Always yield to slow users, uphill traffic and HORSES.
Communicate
Give an audible warning before passing and if necessary, communicate how to pass.
Don't tune out. Always be alert and able to hear other trail users.
Use proper hand signals when verbal communication is not effective.
Greet fellow users with a smile, nod, wave or a friendly hello.
Pet Etiquette
Keep pets on a leash and under control at all times..
Keep pets close by when other trail users are close or passing.
Pick up after your pet.
Be a Good Steward
Dispose of all waste properly.
Do not disturb wildlife and their habitats.
Respect all trail infrastructure or natural and cultural resources.
Leave what you find for others to enjoy.
Trail Etiquette for Specific Trail Types
Hard-Surface Trail Users
Natural Surface Trail Users
Horses Trails
Trail Safety Tips
Know before you go. Be prepared for weather, bugs, hunting seasons, etc.
Walk, run, or ride within your limits.
Use the buddy system whenever possible.
When traveling alone, tell others of your plans.
Wear a helmet and other applicable safety gear.
Stay hydrated. Bring clean water or know the closest reliable source of clean water.
If you use a motorized vehicle, bring tow ropes.
Common Phrases Used on the Trail
Trail users must clearly communicate with other users in order to effectively share the trail. Communication can take many forms.
Here are a list of common phrases to use and pay attention to.