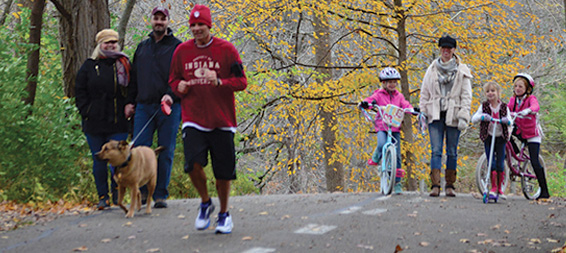 Healthy Parks, Healthy People
Get moving outdoors by walking, hiking, biking, or swimming
Combine being outdoors with a little bit of exercise – and surprise yourself with how great it makes you feel. Here are some ideas to help you get moving at Indiana State Parks and Reservoirs. View the calendar at the bottom of this page for opportunities to get moving.
Walking and hiking
Hiking Challenges
Try one of our hiking challenges and earn stickers and shirts to purchase:
State Park Fitness Challenge
Get healthy at an Indiana state park and be entered to win an Annual Entrance Permit at the same time. Between March 1-Nov. 30, we invite you to walk, bike, paddle, or swim at least 25 miles inside one or more of Indiana's state parks or lakes.
Biking
Take your child outdoors
Every Indiana child should have the opportunity to play and have fun outdoors. Check out the Indiana Children's Bill of Outdoor Rights for a list of things to do with your child, grandchild, students, or groups.
Mountain biking
Mountain bike trails are available at several state parks and reservoirs. Get out your helmet and take a ride through forests and meadows in some of Indiana's most scenic places. Trails are available at:
Keeping parks healthy
About 15 million visitors use the 178,330 acres managed by Indiana State Parks each year. Properties feature incredible natural resources from deep, rocky canyons to beautiful sandy beaches. They also contain:
more than 560 miles of hiking, biking, and horseback riding trails that wind through forests, cross meadows, and skirt marshes teeming with wildlife.
7,452 campsites and 131 cabins.
about 17,000 picnic tables, 174 picnic shelters, and 163 playgrounds.
more than 39,000 acres of lakes, accessed by 75 boat ramps and 17 marinas.
thirteen year-round nature centers and eight seasonal centers. They are visited by a half-million people each year. Programs are attended by a quarter of a million students, teachers, and families.
about 2,080 buildings.
seven State Park Inns with 612 rooms, the fourth largest state park inn system in the country.
about 69 thousand acres of public hunting land on reservoir properties
350 wood duck nesting boxes.
What makes each property unique?
Read Discovering a Sense of Place (PDF) to learn where you can find features such as historic homes, great wetlands for birding, and unique geologic formations. The publication includes information about each property.
Healthy habitat and wildlife
Managing a park's ecosystem is a difficult task and requires balancing vegetation and animals. Here are a few ways this is done: