Cagles Mill Lake (Lieber and Cataract Falls SRA)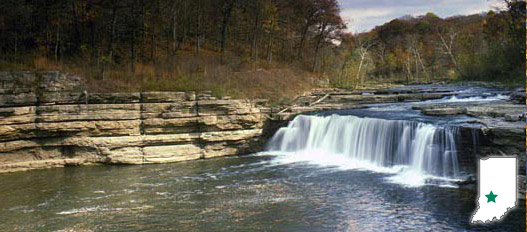 Lieber SRA
1317 W. Lieber Road, Suite 1
Cloverdale, IN 46120
765-276-0194
Cataract Falls SRA
2605 N. Cataract Road
Spencer, IN 47460
View daily lake level report
Cagles Mill Lake (Lieber SRA) advisories
LIEBER SRA PONTOON BOAT RENTALS: The Division of State Parks / DNR is currently negotiating a new concession contract for pontoon boat rentals and fuel sales at Lieber SRA. Given the recent high water, floating debris and inability to easily access the gas dock, there has been further delay with this process. In addition, we will be installing an entirely new dock structure after Labor Day, which will shorten the season for slip rentals and boat rentals even further. We thank you for your patience. Please check back here for updates.
BEACH CLOSED 6-21-2021: Due to recent heavy rainfall and flooding, the beach at Cagles Mill Lake (Lieber SRA) will be closed until further notice. The park boat ramp and Cunot Boat Ramp are still usable, but parking is limited. Boaters should monitor their vehicles and boat trailers for changing water levels at both ramps. The marina walkway is inaccessible, however, a row boat will be available for renters to gain access to their boat slips. All other facilities at Lieber SRA are open. Please check back at this site or on Facebook for updates.
BLUE-GREEN-ALGAE: Blue-green algae is at the ADVISORY alert level for the beach at CAGLES MILL LAKE (LIEBER SRA). Swimming and boating are permitted. Avoid contact with this algae and swallowing water while swimming. Take a bath or shower with warm soapy water after coming in contact with lake water. Do not use lake water for cooking nor bathing and do not allow your pets to swim or drink water where algae are present. Check back for updates. Learn more.
Events in the next seven days